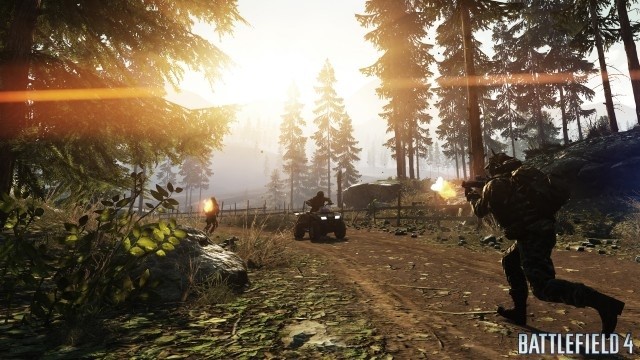 DICE, the developer of the upcoming FPS video game, Battlefield 4 has detailed the seven multiplayer modes for the game.
These details were released apparently ahead of the game opening up for Beta testing next week. The studio said, "Battlefield 4 brings seven distinct game modes all playable on the ten exciting multiplayer maps - and all modes will be playable on all maps," in a post on its official website.
It also revealed that out of the seven modes, Conquest and Domination modes will be playable in Battlefield 4 beta.
Details of the multiplayer mode are revealed below:
Conquest: It is an "all-out vehicle warfare mixed with intense infantry action across land, air and sea." It can be playable by 24 players on PlayStation 3 and Xbox 360 and by 64 players on PC, PlayStation 4 and Xbox One. This mode will also get an optional Commander mode. Players have to "capture flags, eliminate enemy soldiers, and bring the enemy's ticket count down to zero."
Domination: It is the infantry version of Conquest mode with the mode being playable by 20 players. There is no Commander mode available in this mode.
Obliteration: This mode involves combat with both vehicles and foot soldiers. 24 players on PlayStation 3 and Xbox 360 while the number is 32 for players on PC, PlayStation 4 and Xbox One can play in this mode. This is one of the most explosive of the modes where players have to move bombs and plant them at enemy targets.
Defuse: This is for players preferring close quarters combat but with a competitive 5 vs. 5 players setting. Players have to play in teams of five where they have to eliminate enemy squads while arming and detonating military objective.
Team Deathmatch: This is the classic shooter mode with 20 playable players where two teams battle each other and one reaching the required number of kills being on the side of victory.
Rush: Players have to fight an asymmetrical battle in this mode where the objective for the attackers is to arm and destroy two MCOM station, while the defenders stop the attackers from winning. Attackers can win in the event of have successfully neutralized six enemy MCOMs while defenders can win by finishing off all the attacking team's respawn tickets. The Rush mode is designed for 24 players on PlayStation 3 and Xbox 360, while 32 players can play on PC, PlayStation 4 and Xbox On
Squad Deathmatch: It is a mode where, "four squads fight on the ground with limited vehicle support in a race to the top of the leaderboard." This mode is designed for 16 players with an option of Commander mode too.
The Team Deathmatch and Squad Deathmatch modes will be returning to Battlefield 4.
10 Battlefield 4 Maps Revealed:
DICE has also released the full list of maps that will be rolling out for the Battlefield 4. The member of NeoGAF also spotted the images of the Battlefield 4 maps on Battlelog.
Below are the 10 maps of the game:
Siege of Shanghai
Paracel Storm
Zavod 311
Lancang Dam
Flood Zone
Rogue Transmission
Hainan Resort
Dawnbreaker
Operation Locker
Golmud Railway
The game is expected to be released on Oct 29 for PC, PlayStation 3, PlayStation 4, Xbox 360 and Xbox One.