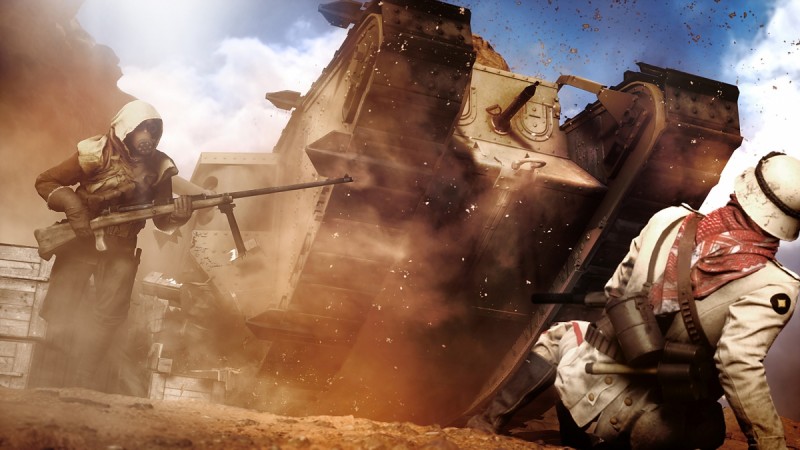 The Battlefield 1 Companion app is now publicly available across Android, Windows and iOS platforms. The USP of the application is that it lets gamers keep updated and check out both Battlefield 1 and Battlefield 4.
A key aspect of the new Battlefield 1 Companion app is its completely overhauled look and feel. Also, in tow, are aspects such as improved navigation and support for Battlefield 1. The Battlefield Companion will enable you to track Battlefield progress, customize your loadout and even connect with friends.
The app also incorporates a new Career section that lets gamers explore stats and awards from Battlefield 1 and Battlefield 4. You can also view progression of your friends, with regard to these aspects.
The Customization screen provides an overview of all the weapons and gadgets at your disposal while on the go. Here, you can explore and customize your loadout, making you fully prepared for battle. You can also create and customize your own emblem directly in the Battlefield Companion.
Before Battlefield 1's official release on October 21, below is the full list of in-game weapons worth checking out:
Standsch
Beretta Model 1918
Bergmann Schmeisser MP18
Browning Auto 5
Remington Model 10 Trench
Winchester Model 1897 Trench
Luger Rifle
Remington Model 8
Cei-Rigotti M1895
Winchester M1907 SL
Martini Henry
Springfield M1903
Lee Enfield MK III SMLE
Mauser Gewehr 98
Steyr-Mannlicher M1895
Winchester M1895
Browning Automatic Rifle
Madsen MG
British Bulldog
Frommer Stop
FN Model 1903
Colt Pocket Hamerless
Mauser 1914
Kolibri
Borchardt C-93
Mars Automatic Pistol
Steyr M1912
Baretta M1915
Colt 1911
Lancaster Pistol
Luger P08
Mauser C96
Webley-Fosbery Audo Revolver
Smith & Wesson Model 3
Bodeo 1889
Melee Weapons
Grenades
Mines
Anti Tank Gun
Dynamite
Mortar
Tripwire Bombs
Field Kit Weapons.
Stationary Weapons
Tanker
Pilot
Boat Weapons
Behemoth Weapons
Cavalry Weapons
Hotchkiss M1914 Machine Gun
Webley Revolver
P08 Luger Pistol
M1918 Browning
Automatic Rifle
Springfield Rifle
Rocket Gun
Bayonet
Artillery Luger
Semi-Automatic Rifles Section
C96 Carbine
Cei-Rigotti
M1907 SL
Mondragon
Russian 1895
Automatico M1918
Model 10
Madsen MG
MG 08.