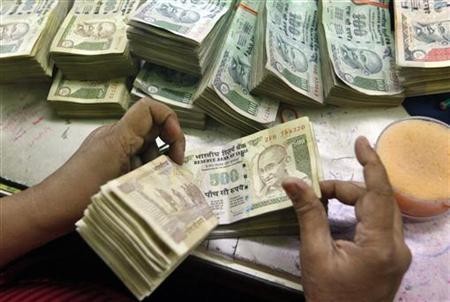 The Indian rupee that breached 65 to the dollar mark on Thursday created market panic with rumours floating that it would fall even further in the near future but latest reports suggested it would bounce back in a few months' time.
Rating agencies - Barclays and Crisil - have revised their estimates for the rupee a day after finance minister P Chidambaram and RBI Governor D Subbarao assured that they would contain the current account deficit (CAD).
Barclays said in its research report that India's CAD is expected to improve in a few months' time and rupee recovers to 61 against the US dollar in six t six to 12 months. It also revised the deficit forecast of 2014 financial year to $68 billion from $80 billion.
"The INR weakness and government efforts to curb various imports, on top of sluggish domestic demand reflecting weak economic activity, are also important factors reducing the trade and current account deficits," said Barclays in the report.
Crisil also said in its research report that rupee would recover from a lower CAD and foreign capital inflows. It said that rupee would be 60 against the US dollar in the fiscal year 2013-14.
The positive report on rupee by the rating agencies came in the wake of Deutsche Bank's prediction that it could touch 70 against the US dollar in a month's time.
"We continue to believe that fundamentally the rupee is undervalued and has overshot its equilibrium level substantially, but as numerous episodes of past currency crises have amply demonstrated, under a scenario of deep pessimism, currencies can overshoot substantially and remain so for a long time," said the report by Deutsche Bank. "India, we fear, is entering such a zone".
However, the report said that the rupee could revive by the end of the year.
The rupee fell to a record low of 65.56 to the dollar on Thursday over fears that the US would start tapering stimulus soon before recovering partially on Friday, strengthening to 63.20 against dollar.
Finance Minister P. Chidambaram stepped in to calm down the panicking market on Thursday. RBI India governor Duvvuri Subbarao also assured that cash tightening steps would be continued until the rupee stabilizes.