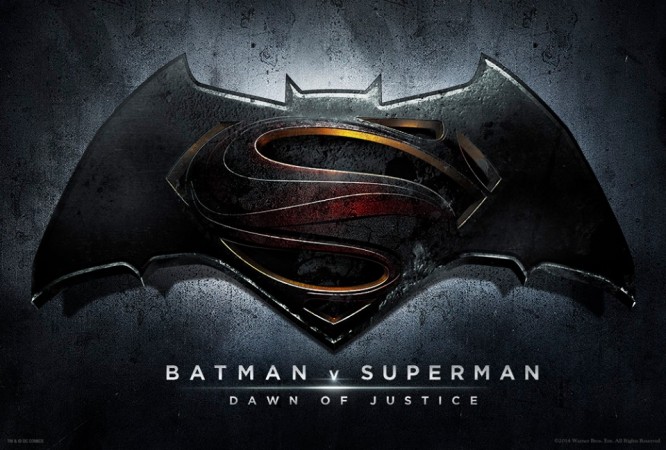 Comic fans across the globe got a better picture of the upcoming superhero movie "Batman v Superman: Dawn of Justice" after Warner Bros released the official synopsis.
The description indicates that the two super powers may team up to defeat a common enemy as it states that a new threat quickly arises, while Batman and Superman are at war with one another, putting mankind in greater danger than before.
"Fearing the actions of a god-like Superhero left unchecked, Gotham City's own formidable, forceful vigilante takes on Metropolis's most revered, modern-day savior, while the world wrestles with what sort of hero it really needs," the synopsis read.
Meanwhile, the movie has been hit by several plot leaks in the past few weeks and the latest hints at Bruce Wayne's Kryptonite power. A spear laced with the alien mineral will reportedly add to Batman's arsenal and help him defeat the super alien with some extra powers. According to Heroic Hollywood, the recently-released trailer of the movie shows the character holding the powerful weapon.
However, it is not clear how did Ben Affleck's character manage to collect the alien mineral and prepare himself to fight against Henry Cavill's character.
Meanwhile, a photo of Batmobile released by License! Global indicates that Batman will have to go through some tough time before he defeats Superman as the vehicle seems to have put on some extra mileage.
Other speculations revolving around "Batman v Superman: Dawn of Justice" are about Jena Malone, Callan Mulvey, Tyrese Gibson and Scoot McNairy's roles in the film. While Malone is speculated to be Carrie Kelley, McNairy is said to be Blue Beetle, according to Den of Geek.
In the meantime, Gibson's Instagram post portraying him as Green Lantern with the caption "Rumor has it that" hints that he could play the role. But since there is no official confirmation on any of the characters, this can only be considered as mere speculation.
The confirmed cast members of the superhero movie includes, Gal Gadot as Wonder Woman, Jeremy Irons as Alfred Pennyworth, Ray Fisher as Victor Stone, Jason Momoa as Aquaman, Christina Wren as Carrie Farris, Amy Adams as Lois Lane, Jesse Eisenberg as Lex Luthor, Diane Lane as Martha Kent, Laurence Fishburne as Perry White, and Tao Okamoto as Mercy Graves.