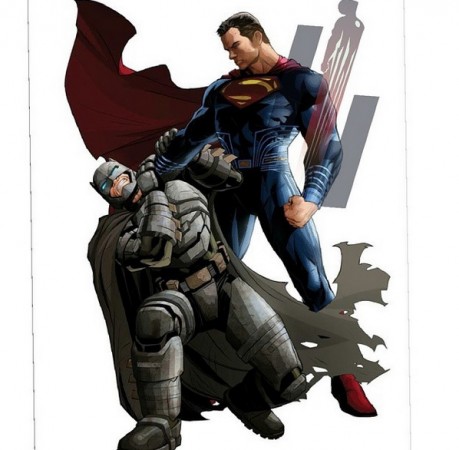 A fight between Batman and Superman, the characters essayed by Ben Affleck and Henry Cavill respectively, is said to be the highlight of the upcoming "Batman V Superman: Dawn of Justice," and two promo art showcasing the fight have managed to pique fans' curiosity.
Who wins when Batman and Superman come to blows is still a mystery, but the promo art posted online by Heroic Hollywood shows both of them trying to intimidate the other. Fans have been divided on who should win this fight, and the promo art sadly does not offer much clues.
But Batman appears to be well-suited to face his opponent, as he is shown wearing the armoured suit seen in Frank Miller's "The Dark Knight Returns." The same batsuit was earlier shown in the trailer of the movie, and it was revealed that the heavy looking suit will be worn by the caped crusader during his fight sequence with Superman.
Although the batsuit looks heavy, costume designer Michael Wilkinson recently said that he made sure it was comfortable to wear as director Zack Snyder did not want Affleck to appear stiff on camera.
"That's actually one of the first things that Snyder mentioned to me in one of our initial meetings," Wilkinson told Fashionista. "It's a very important thing to Zack that the Batsuit would be comfortable and very flexible, but then would be able to perform in a very natural and forceful way. So a lot of incredible engineering went into the development of the new black cowl."
The promo art as well as the trailer of the movie look promising, but the choice of Affleck as Batman was initially met with a lot of criticism. However, director Snyder stood by his decision saying Affleck "brings an interesting counterweight to the performance of Henry in the role of Superman," reported Screenrant.
"He has the experience necessary to paint the picture of an older and more advised man than Clark Kent, who bears the scars of a seasoned vigilante while retaining the charm that Bruce Wayne deploys when present in the world," the director added.
"Batman V Superman: Dawn of Justice" will hit theatres on 25 March 2016.