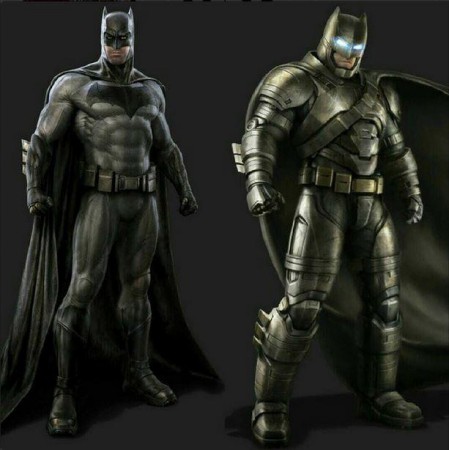 Ben Affleck's Batman will wear two batsuits in "Batman V Superman: Dawn of Justice" and the promo art for these two was released online recently.
While one is a cloth suit, the other is an armoured one, and this is what Batman will probably wear during his encounters with Superman.
Although both the batsuits look heavy, costume designer Michael Wilkinson recently told Fashionista that he has made sure it's comfortable to wear. Wilkinson told the media outlet that director Zack Snyder wanted to make Affleck comfortable in the batsuit so that he doesn't appear stiff on camera.
"That's actually one of the first things that Snyder mentioned to me in one of our initial meetings," Wilkinson told Fashionista. "It's a very important thing to Zack that the Batsuit would be comfortable and very flexible, but then would be able to perform in a very natural and forceful way. So a lot of incredible engineering went into the development of the new black cowl."
The latest batch of concept art also has images of Wonder Woman and the Batwing.
"Batman v. Superman: Dawn of Justice" stars Ben Affleck as Batman, Henry Cavill as Superman, Gal Gadot as Wonder Woman, Jason Momoa as Aquaman, Jesse Eisenberg as Lex Luthor, Ray Fisher as Cyborg and Amy Adams as Lois Lane. The movie will hit theatres on 25 March, 2016.
An official plot is yet to be released, but speculations are rife that the movie is all about the two superheroes butting heads. After the events of "Man of Steel", Superman has become a controversial figure and Batman uses up all his resources to stop Superman from becoming an even bigger threat.
It is not immediately known whom the other major supporting characters will side with.