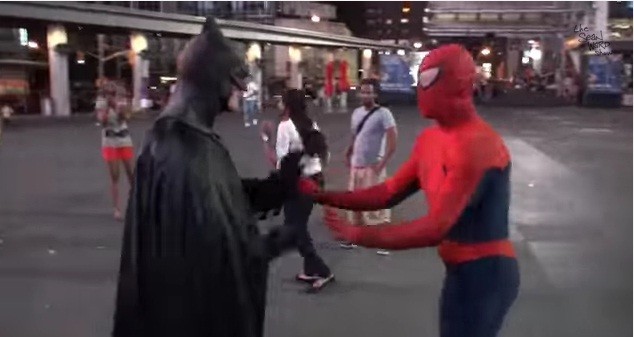 Times Square is famous for the people who dress up as their favourite comic characters, including Spider-Man, Batman, Elmo and Mickey Mouse, and roam around its crowded sidewalks and pedestrian plazas, beckoning the tourists and especially excited kids to take a picture with them.
However, things took an ugly turn on Saturday night, when two costumed superheroes - Batman and Spider-Man got into a fist-fight with another man. NBC reported that 41-year-old Jose Martinez, who was dressed as Batman and 35-year-old Abdel Elkahezai, who was dressed as Spider-Man, allegedly confronted a man who was heckling them around 10:25pm near 44th street and Broadway in Times Square.
The two superheroes and 23-year-old Thomas Rorke, have all been charged with misdemeanor assault for partaking in a brawl that was allegedly provoked by the latter, who was making "sexually suggestive gestures" along with a friend.
Rorke was struck multiple times in the face by the crime-fighting duo, the police said and has sustained injuries to his face and chest, causing redness and pain. The men posing as Batman and Spider-Man claimed to have been punched and struck as well.
The hilarious story has tickled a few bones among the Twitterati, inspiring even actor-director Seth Rogen to make a movie out of it. "Spider-Man, Batman arrested after alleged brawl in Times Square. I'm turning this into a $500 million movie," Rogen tweeted.
This incident just adds to the long list of arrests inovolving costumed characters in Times Square. Earlier this month, Woody, Minnie Mouse and the Statue of Liberty were all arrested in Times Square after they allegedly asked tourists to pay for pictures, the NYPD says. The people in costumes were all cuffed on aggressive solicitation charges after a run-in with a family of tourists.
These arrests came amid calls to City officials' opinion to crack down on costumed characters in Times Square, who have a reputation of assaulting tourists, including children, groping women and so on. Recently, City Councilman Andy King proposed that those in costumes would require to be licensed by the city. "We're saying if you do come out here, we want to know who you are," he said.
The Daily Mail reported in August, that the police also began handing out fliers and posting signs in five languages telling visitors that "photos with costumed characters are free. Tipping is optional."