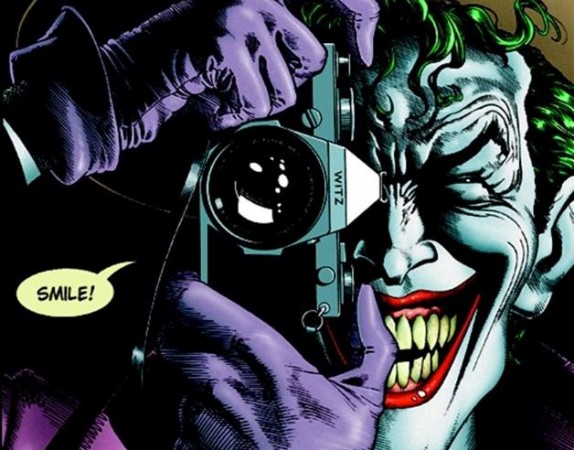 Alan Moore and Brian Bolland's renowned graphic novel will soon be seen in an animated form. "Batman: The Killing Joke" has been confirmed to be released on July 23, 2016.
Fans of the iconic DC Comics character have more than one reason to wait eagerly for the movie. Besides being based on one of the best Batman stories ever, "The Killing Joke" will also be an R-rated adaptation, which means more violence, blood and gore.
Comic Book has reported that the official synopsis of the movie has been revealed and it hints at some surprising elements being included in the movie. According to Apple's iTunes, the description of the synopsis reads:
"What does it take for a person to snap? How much despair for a mind to fracture? These are the twisted questions that The Joker has set out to answer, to show Gotham that even an ordinary man like Commissioner Gordon is only one bad day away from sheer insanity. Based on the acclaimed DC Comics graphic novel, witness a journey into the dark psyche of the Clown Prince of Crime. Follow his humble beginnings as a struggling comic to his fateful encounter with the Dark Knight that changed everything. Fuelled by the return of Kevin Conroy as Batman and Mark Hamill as The Joker, witness the birth of a super villain, the fortitude of a hero and the punch line that will leave you speechless."
The movie will have a direct-to-video release on Digital HD on July 26 and will be released on Blu-ray and DVD on August 2. A special Deluxe Edition will also made available that will include a limited edition The Joker figurine.
The voice cast of "Batman: The Killing Joke" includes Kevin Conroy, Mark Hamill, Ray Wise, Tara Strong, Robin Atkin Downes, John DiMaggio, JP Karliak, Brian George, Nolan North, Andrew Kishino, Fred Tatasciore, Maury Sterling, Anna Vocino, Bruce Timm, Rick Wasserman, and Kari Wahlgren.
The movie has been directed by Bruce Timm and Sam Liu on a script written by Brian Azzarello.