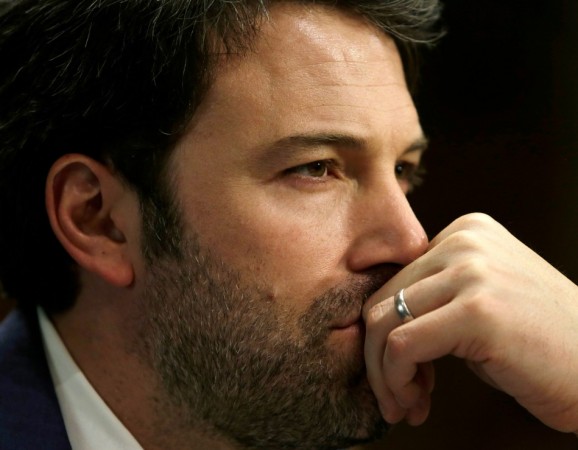 After posting a picture of the Batmobile, "Man of Steel 2: Batman Vs Superman" director Zack Snyder on Tuesday posted a photograph of Ben Affleck's Batman costume on his official Twitter account.
The black and white photo shows Affleck's Batman standing next to the Batmobile and fans of the superhero have been quick to heap praises on the classic yet unique costume.
I shot this with my @Leica_Camera M Monochrom. #Batman #Batmobile #Gotham http://t.co/WPHKLxgBLM pic.twitter.com/p5DEf6fLzJ

— ZackSnyder (@ZackSnyder) May 13, 2014
The new photo was posted just a day after Snyder posted online a photograph of Batman's latest ride, which is believed to be parked in a warehouse in Detroit, where the movie is said to start production.
The new suit, which is darker and features short ears, is similar to the one featured in "The Dark Knight Returns" graphic novel, and fans are excited about the resemblance.
@ChrisVanVliet I didn't think he'd have the guts to do the TDKR suit, but he did! — Jim Monastra (@JamesMichael32) May 13, 2014
@deantrippe his whole suit is a throwback to the Dark Knight Returns and I think they are at least getting close to nailing it.

— Joel Taylor (@thatjoel) May 13, 2014
Although Affleck's casting as the Caped Crusader was met with a lot of resistance initially, fans seem to have accepted him as the superhero.
Defending his decision to cast the star as Bruce Wayne, Snyder said at the time that he would perfectly complement Henry Cavill's Superman.
"Ben provides an interesting counter-balance to Henry's Superman. He has the acting chops to create a layered portrayal of a man who is older and wiser than Clark Kent and bears the scars of a seasoned crime fighter, but retain the charm that the world sees in billionaire Bruce Wayne. I can't wait to work with him," Snyder said, according to Vulture.
The film is slated for a May 6, 2016 release and it stars Amy Adams, Jesse Eisenberg, Gal Gadot, Diane Lane and Tao Okamoto, among others.