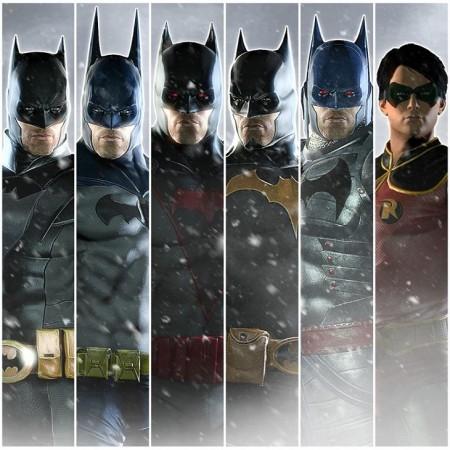 Caped crusader Batman will be seen sporting new costumes and gears as he flies through nights to eliminate the scum in Gotham City. Game publisher Warner Bros. Interactive has announced three new downloadable content (DLC) for its Batman: Arkham Origins adding more items in his wardrobe. Apart from this, the company also outlined its story DLC, Initiation, which will be out in December.
Three DLC Packs
Warner Bros said it is outing three DLC packs for the game - The Infinite Earths Skins Pack, The Black Mask Challenge Pack and Online Supply Drop #1.
The Infinite Earths Skins Pack - This pack allows players to dress their Dark Knight in six different costumes based on the attires in DC Comics universe. They are:
Earth 2 Dark Knight
Long Halloween Batman
Batman: Dark Knight of the Round Table
Thrillkiller Batman
Earth 2 Batman
Classic Tim Drake Robin (multiplayer mode only).
Infinite Earths Skins Pack will be included in Season Pass and it is available on PlayStation Network, Xbox Live Marketplace and Steam for $4.99. It is also available on eShop, costing $3.99 for Nintendo Wii U.
The Black Mask Challenge Pack - This pack will give players two new challenge maps, Lot Full and Hidden Facility, where Batman will take on dangerous criminals from Gotham. It was also reported that players owning the Deathstroke Challenge Pack can play as Deathstroke in Black Mast Challenge pack. This pack is available for $1.99 on all platforms and is not a part of Season Pass.
Online Supply Drop #1 - This adds to the multiplayer content for the game and players will get two new clothes for Joker and Bane. It will also include a new weapon-like sawn-off shotgun, extra weapon progression bonuses and additional skins. This pack is available for $2.99 on all platforms but is not a part of the Season Pass.
Initiation DLC and Details
Warner Bros has revealed a new DLC for Arkham Origins that will take the story back to Bruce Wayne's attempts to master martial arts. This traces the origin of his fighting skills, taking players all the way to North Korea in search of a monastery where Togakure-Ryu is taught. He is accepted by Master Kirgi and goes through initiation.
Ames Kirshen, VP of WB Games, calls the new DLC as a "new kind of challenge map pack that's got a little bit of a narrative to it," in the latest episode of DC All Access. Wayne has to fight other ninjas to prove his mettle.
Initiation DLC will come out in December for Batman: Arkham Origins.
(YouTube Coutesy: Batman Arkham Videos)

(YouTube Coutesy: DC Comics)