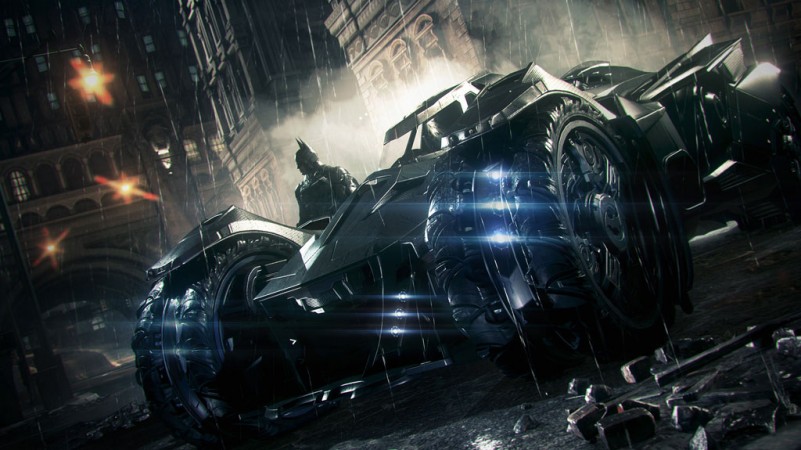 In the run up to the release of Batman: Arkham Knight, various rumors have surfaced on the storyline and characters that will be introduced in the last main game in the Batman Arkham series. Rocksteady Studios is hot in the works of the game's development but rumors of inclusion of Bruce Wayne's son, Robin, Superman and finally the death of Batman himself have been doing the rounds.
Will the Batman Die?
Fans have wondered if Batman will finally call it a day and faces inaction at the hands of Arkham Knight. A Reddit user, LUKEDAWG123 has given his take on why he believes that could be a possibility. Here are his reasons.
In Arkham City, when Batman meets Azrael, Azrael tells him that Gotham will soon burn and that Batman will save Gotham, but die in the process.
The logo for Batman: Arkham Knight features the Batman logo on fire.
Some Reddit users also opined if this will necessitate the arrival of Robin/Nightwing and some went further saying that Arkham Knight might inherit all of Batman's equipment, becoming a kind of antihero.
Many have also speculated Superman's brief entry in the game to save Batman, but there is no sound proof of him dropping to Gotham City.
Bruce Wayne's Son to be Introduced?
Another rumor that had been doing the rounds was the introduction of Bruce Wayne's son in Batman Arkham Knight. A Twitter post (which has been taken down since) by retail store, Best Buy said, "Masked as Bruce Wayne's son, drive the Batmobile & defend the city from notorious villains," IBTimes reported.
This post weaved up rumors if players will get to play Damian Wayne, who was the fictional son of Bruce Wayne and Talia al Ghul, the daughter of Batman's villain Ra's al Ghul. The post could also mean Thomas Wayne's son, which will be Bruce Wayne. The game publishers released a "Father to Son" trailer on 4 March.
Red Hood as an exclusive DLC
To the excitement of Arkham Knight fans, players pre-ordering the game will now receive Red Hood Story Pack as an exclusive GameStop pre-order bonus.
Big announcement for a big game tomorrow... pic.twitter.com/nSBW7HlFRV

— GameStop (@GameStop) July 22, 2014
Previously, it was confirmed that pre-ordering Batman Arkham Knight will allow players to get Harley Quinn Story Pack as a bonus.
Batman Arkham Knight will be rolling out in 2015 for PC, Xbox One and PlayStation 4.