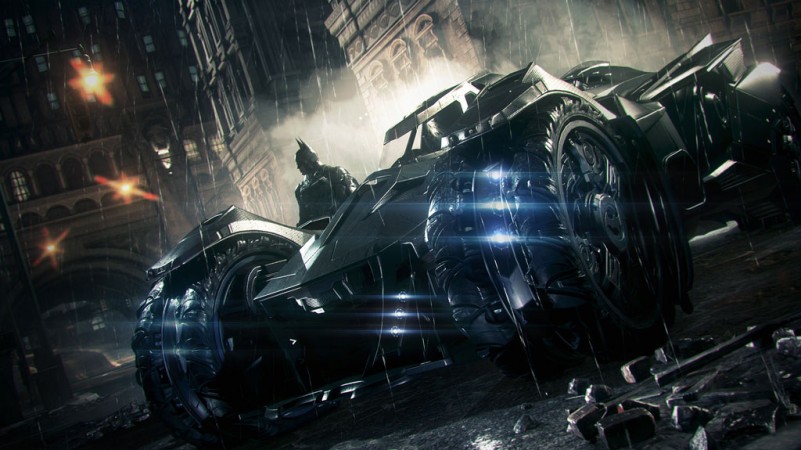 Batman Arkham Knight, the last video game from Rocksteady Studios that is the last game in the Batman Arkham series as well, will receive a new November update that will add new content to this action-adventure video game.
November update has some interesting additions from Rocksteady that will invigorate the gameplay. It will add new Batman vs Superman Batmobile Pack featuring a new Batsuit and Batmobile that will be part of the upcoming "Batman vs Superman: Dawn of Justice" movie.
Apart from this, there are other takeaways from the new update, like the Crime Fighter Challenge Pack #4 that will let the players have more control over Catwoman and Robin as they fight to keep the spirit of Gotham alive.
The update will see some skin packs for Robin and Batmobile. It will also add six new AR challanges and two AR challenge maps.
Meanwhile, it is being reported that some players are facing issues accessing the new content; however, Rocksteady has assured it is looking at them.
The game was released on 23 June for PC, PS4 and Xbox One.
Below are the features that will be added in the November update of Batman Arkham Knight.
Crime Fighter Challenge Pack #4: Get this Crime Fighter Challenge Pack to receive various challenge and invisible predator maps featuring Batman, Nightwing, Robin, Catwoman and Azrael. This expansive challenge pack allows focused training in Freeflow Combat and Invisible Predator stealth incursion.
Arkham Episodes AR Challenges: a collection of six new AR challenges including Freeflow Combat and Invisible Predator, taking place in environments from the Arkham Episodes GCPD Lockdown, Catwoman's Revenge, and Flip of a Coin.
WayneTech Track Pack: Test your skills behind the wheel with these two cutting edge WayneTech themed racetracks.
Robin and Batmobile Skins Packs: Get this Robin and Batmobile skins pack to don the Original Tim Drake Robin costume and speed through Gotham City with the Robin Themed Batmobile Skin.
Riddler Themed Batmobile Skin: Puzzle your enemies with this Riddler themed Batmobile skin.
Free Update: Character Selection in AR Invisible Predator Challenges.