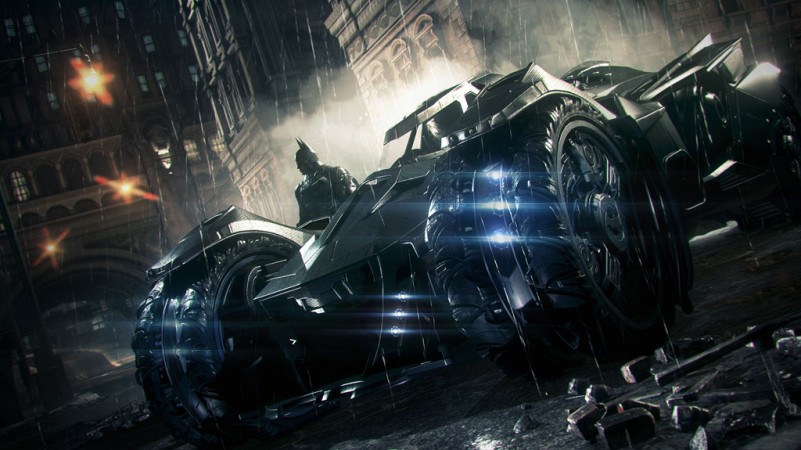 It has emerged that the revelations about the upcoming video game from developer, Rocksteady Studio, Batman Arkham Knight were probably fake.
The leaked details surfaced on the forum website 4chan, claim to be revealed by someone who has signed a non-disclosure agreement with Warner Bros. The plot reveals that the Arkham Knight in the game could very well be the clone of Bruce Wayne aka Batman. However, the leak was reported by Gameranx to be a fake one.
In the official Facebook page, Rocksteady detailed Operation Savior. This is an operation by Arkham Knight where he plans to lock the city down and wrap his hands on "Gotham's throat" within an hour.
The leaked script has no mention of 'Operation Savior' and hence it can be fake. The follow up to this Facebook post was from Commissioner Gordon, who cautioned his units about the "numerous hostile tanks" inside Gotham City. He further declared that "Gotham is under attack" and asked his units to go back to the GCPD. But he also instills hope in them saying that there is someone who is equipped to deal with the antagonist.
Arkham Knight's name is a mystery. The developer has not released any information on it either. It could be either released during the release of the game or it might be held up for a DLC.
The leak revealed that Arkham Knight is a clone of Bruce Wayne. His creation process was initiated by Doctor Amanda Waller. Arkham Knight was made using the titan formula, thus speeding up the process of aging.
Batman Arkham Knight is the fourth main game in the series, Batman Arkham. Its storyline is set a year after that of 2011's Batman: Arkham City. The scarecrow will be featured in the game, which will be planning to kill Batman by uniting all his enemies.
The game will also introduce a playable Batmobile, which comes with its own set of weaponry and it will also be able to perform jumps, speed boosts, rotate on the spot, smash through objects and more.
Release Date
Batman Arkham will be using Unreal Engine 3 and is slated for release in 2015 for PC, PlayStation 4 and Xbox One.