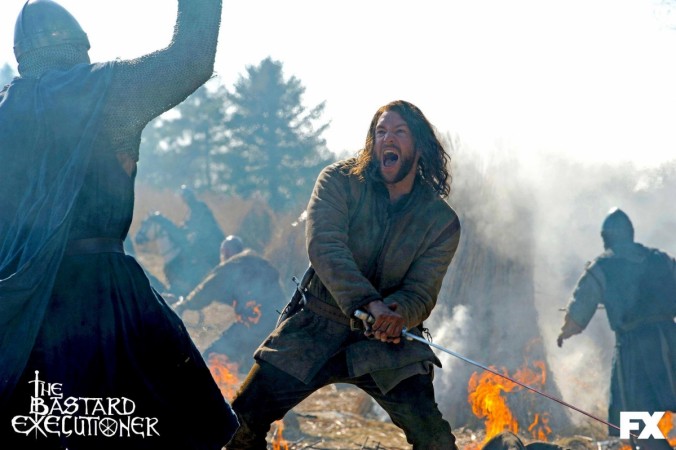 Kurt Sutter's new show "The Bastard Executioner" is scheduled for a fall release and has officially been picked up for a 10-episode season 1. While the cast and crew have returned to Wales for shooting for the series after a small break, the first look of central character Wilkin Brattle (Lee Jones) in action, has been shared by the creators on "The Bastard Executioner" Facebook page.
The FX series centres around Brattle, a knight in King Edwards I's army, who is forced to pick up the executioners sword, after he swore off violence. The fictional period drama series set in the time of Welsh rebellion introduces the "tall, dark, and imposing" warrior, as he is going through, what we in the current world would call, PTSD.
In the synopsis, Wilkin Brattle is described as a man "broken by the ravages of war". Feeling conflicted about his actions, Brattle decides not to pick up a weapon ever again. Australian actor Lee Jones will bring the tortured warrior to life in the small screens.
Seasoned actors, such as Sarah Sweeny, Stephen Moyer, Brían F O'Byrne, Katey Sagal and Kurt Sutter himself, will join Lee Jones in "The Bastard Executioner".
'The Bastard Executioner' Full Cast Revealed; 'Sons of Anarchy' Stars Get Back in Action [POLL]
Although many things about the series remain unclear, one thing is certain that the man behind "Sons of Anarchy" cannot go wrong when it comes to gripping drama series.
Even FX chief John Landgraf agreed to this, when he said in the statement, "From his important contributions to 'The Shield' to his epic run on 'Sons of Anarchy', Kurt has been one of FX's most visionary artists, and we are proud to get him back on the air so soon after the unquestionable success of 'Sons' [of Anarchy]".
One thing is certain that there will be equally benevolent servings of history, theology and blood in "The Bastard Executioner". If you are worried about not getting a dose of the bloody, historical series for another couple of months, fear not, because a chunk of the pilot will be premiered at the San Diego Comic-Con in July.