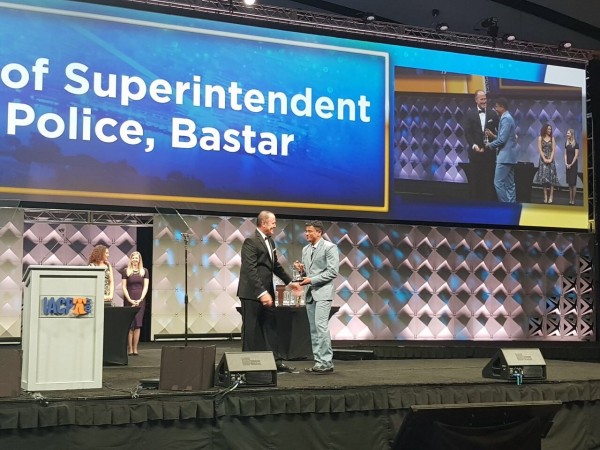 The Bastar Police (Chhattisgarh) led by Arif Sheikh, IPS bagged special recognition award globally when they won in the category of Homeland Security at the Annual International Association of Chiefs of Police (IACP) award ceremony on Tuesday.
The award ceremony was held at the Pennsylvania Convention Centre of Philadelphia in Pennsylvania, in the US.
Besides awarding the cops for their extraordinary services in fields like forensic sciences and human and civil rights, the 126-year-old organization of all the chiefs of police in the US also identifies and rewards the best practices in community policing all across the world.
Reason behind recognition
Community policing makes the best use of the power of collaboration and partnership with the locals to not only secure the national and global communities feel safe but also ensure safety to local communities from terrorism and crimes.
The Bastar district of Chhattisgarh is one worst affected regions by Left-wing violence perpetrated by Maoists in India.
To combat that, the district police under the leadership of Arif had started the "Amcho Bastar, Amcho Police" campaign, which in tribal dialect means Our Bastar, Our Police.
Besides being successful in collaborations with tribal communities to fight crime and deter Maoist influence, the campaign — started a few months ago — yielded better results in the rehabilitation of Naxals, especially the Bal Sangham, or children affected by Left Wing Extremism (LWE).
The police rescued these children, some of whom were used as child soldiers, and even got them admitted to schools.
Since the campaign started, the Bastar Police have not only killed four top Naxal leaders but also witnessed the surrender of nearly 461 Maoists.
Arif Sheikh, who became the only IPS officer to have won this prestigious award in Community Policing twice in a row, dedicated the award to the Bastar security personnel who lost their lives while on duty and to the victims who were killed in Maoists and Naxal attacks.
The other agencies who won the community policing award are Oelwein Police department, Iowa; Monrovia Police department, California; Roanoke Police department, Virginia; Fujairah Police department, United Arab Emirates; Arlington Police department, Texas.