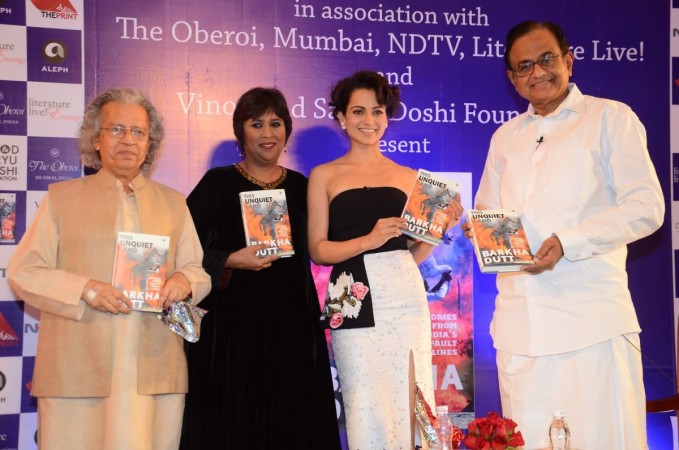 Barkha Dutt and Arnab Goswami, journalists and former colleagues at news channel NDTV, are engaged in a verbal slugfest, largely one-sided.
The outburst by Dutt was triggered by a purported gag on media sought by Goswami of Times Now against Indian journalists for their "pro-Pakistan" leanings, that are revealed during television debates on Kashmir, and Pakistan, followed by customary tweets.
Indian journalists are often seen through the prism of patriotism for their coverage of events involving India and Pakistan, more so in the context of Kashmir and terror attacks.
The recent killing of Hizbul Mujahideen militant Burhan Wani on July 8 in an encounter with Indian security forces and the subsequent violence it unleashed in the Valley is one such case that has unleashed intense, often passionate coverage on television and social media.
While some like Goswami are blunt in their condemnation of violence by Kashmiri separatists and their supporters in the Valley, and support Indian security forces, other journalists tend to be "seen" as objective in their coverage. This often pits the former against the latter, triggering a war, which on expected lines, is confined to the new battleground: social media.
But the recent slugfest, prompted by the view that Goswami was directly attacking Dutt, saw a sharp rebuttal from the lady often perceived as close to the Congress and opposed to the Bhartiya Janata Party (BJP).
Opinion also veers towards Goswami's side when it comes to coverage of Kashmir events, as is evident from this tweet by a veteran journalist.
Frankly, I don't agree with much of what Arnab says. But he has a point when it comes to coverage of J&K events. https://t.co/ziOpbiMjJe

— Prabhu Chawla (@PrabhuChawla) July 27, 2016
In her Facebook post, Barkha Dutt posed some questions to the Editor-in-Chief of Times Now, while flaying him for indulging in "sycophancy" (chamchagiri).
"Times Now calls for gagging of media & for journalists to be tried & punished. This man is journalist? I am ashamed to be from same industry as him. What's striking is his brazen and cowardly hypocrisy. So he drones on and on about Pro Pakistan Doves without one word on the JK alliance agreement that commits the BJP and PDP to talks with Pakistan and Hurriyat and is silent on Modi's own Pakistan outreach- neither of which I object to- but since Arnab Goswami measures patriotism by such views why is he so silent on the government? Chamchagiri?"
"Imagine, a journalist actually exhorts the government to shut down sections of the media, misrepresents them as isi agents and terror sympathisers, calls for them to be tried and acted against. And our fraternity remains locked into politically correct and timid silence. Well Im not a shrinking violet Mr. Goswami and no matter how many times you take my name directly or indirectly on your show, I really dont give a toss for your opinion."
The Facebook post has received about 19,000 comments and some are not charitable to the lady.
Panchapakesan Iyer wrote: "Barkha Dutt in the history of journalism in India you shall go down as one of the worst kind for the generations to know that the journalist should never be like Barkha Dutt, the medusa of indian journalism."
Payal Grover wrote: "Plz plz plz burka dutt.... Don't say that you are ashamed when you have no shame left in you... You have sacrificed your soul at the altar of Gandhi dynasty..."
Tavvy Rizvi wrote: "Barkha Dutt I am a Muslim and still hate you. Because you are Pakistani agent... or may b u r not. But just remember that when you support or encourage the wrongdoings of any community (in your case muslim community), you are only increasing the rift between the muslims and hindus."
Simardeep Singh Bhatia wrote: "Arnab Goswami is no where close to being a fair journalist. It's extremely evident from his expressions and dialogues how much he is pro- BJP, all under the banner of patriotism."
Jyothsna Why wrote: "What a long drone monologue Is this required at all, especially, when the man did not even drop a hint of your name? What he said should not have hurt you if you believe you are not what he uttered. While panting over what he had hinted, you actually are justifying what you are and what you are not."
Marc P Gangmei wrote: "What scares me is that Arnab in his love for his country is unknowingly creating a kind of Nazi mindset in the young Indian minds. Everybody is a human whether they be politicians or army. And they can make mistake. And we all do have our own vices."
Kamal Chenoy wrote: "PseudoAnchor Arnab? More judgemental than Abu Bakr al-Baghdadi (head of ISIS)? Hero of the prearranged interview (Modi)! Journalist extraordinary, and even more ordinary. There are more "sold" media people who are still polite. Just stay away from his abusive, intolerant and ignorant channel. Save electricity and your blood pressure."
Ankit Majumder wrote: "Arnab to the best of my knowledge, never named you or your channel. His rant was merely on media whores seeking to undermine the nation and its integrity, on terrorist apologists, on people in bed with the pakistani establishment working to eat away at the very soul of this great civilization. Nowhere were you mentioned...but hey! if the shoe fits, feel free to wear it."
Debasish Choudhury wrote: "Arnab Goswami only called for a gag on media and journalists who take an anti-India, pro-Pakistan, and pro-terrorist stand. Do you think you fall in that category? If no, why do you loathe him?"
Asif Naqvi wrote: "Dear barkha, ignorance is biggest weapon to kill someone.. Just ignore such people. They will automatically become history. n be on your own path of truth. You, ravish n ndtv are the only true n honest flames of journalism. Truth is being enlightened.. Keep going.. You are not anti national. Questioning the pseudo nationalist cannot be termed as antinational.. Bravo Barkha!!"