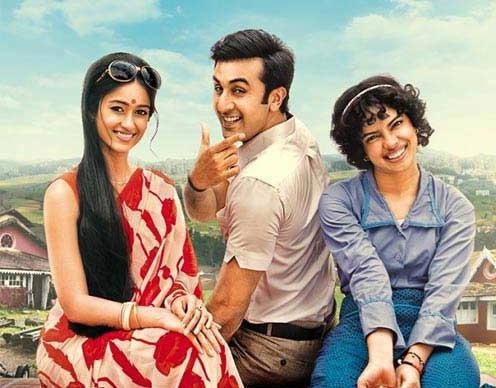 Anurag Basu's directorial movie "Barfi" is spreading its sweetness at the box office in the second week as well. Despite newly-released "Heroine", the Ranbir Kapoor-starrer is going strong and attracting audiences at the BO in its second week.
On its second Friday the romantic comedy collected ₹41 million and raked in ₹60 million the following day, taking the overall total to ₹687 million. The movie is expected to collect extraordinary figures on Sunday.
"The drop was 60% but for a multiplex movie like Barfi! this number on a 2nd Friday is in no way less than spectacular," koimoi.com reported. The movie is also doing well at the overseas box office and collected ₹130 million, according to the website.
The romantic comedy movie is expected to earn around ₹120 million in its second weekend. In jus two days (Friday and Saturday) the film collected ₹101 million and requires just ₹19 million to cross that ₹120 million mark.
The movie is not affected by Madhur Bhandarkar's much-hyped movie "Heroine" which opened to mixed reviews.
The film starring Kareena Kapoor, Arjun Rampal and Randeep Hodda has collected ₹75 million on the opening day and ₹85 million on Saturday, taking the two-day total earnings to ₹160 million.
Meanwhile, "Barfi" has been selected as India's official entry to the Academy Awards 2013 in the foreign film category.
"Barfi! is the Indian entry to the Oscars. We selected it to represent the country out of 20 films," Supran Sen, secretary general of the Film Federation of India, told Press Trust of India.