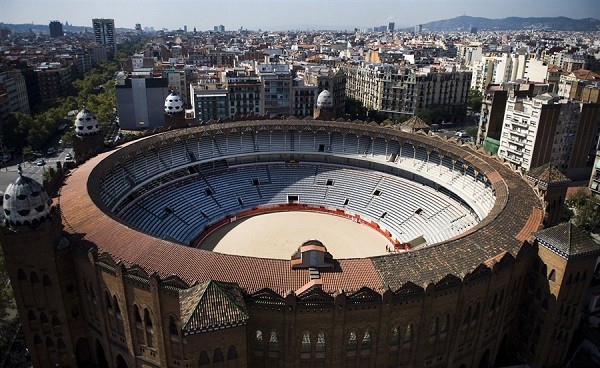 Barcelona's Monumental Bullring will be converted into Europe's biggest mosque by Sheikh Tamim bin Hamad Al Thani, the ruling Emir of Qatar. However, the news has been met by resistance by many, who are opposed to the idea of an Islamic mosque.
It is reported that the Emir of Qatar will be investing $3 billion over a period of five years to convert the former bullring that since 2010's ban on bull fighting has been lying unused.
The plan, however, has been met with resistance from the locals.
"The politics of mosque building has remained 'fraught in Europe', with substantial public resistance to the construction of any building with Islamic associations," local journalist Feargus O Sullivan noted in the CityLab report. "And in Barcelona the opposition has been the strongest and because of that it is the only European city not to have a mosque despite having a population of at least 300,000 Muslims."
The mosque will have a minaret, which upon completion will be the third-largest minaret in the world outside Mecca and Medina. Mosque will include a conference hall, a study center, which can house 300 people at a time and an Islamic art and history museum.
The report published in The Local had claimed that Sheikh Tamim bin Hamad Al Thani had approached the building's current owners, the Balana Group with his investment offer. The sale terms have been agreed and the two parties will be presenting the proposal plan before the city council for its final approval.
A historical site
The Monumental was first opened to the public in 1914 as a venue for bullfighting and music concerts. Over the years legends such as The Beatles, The Rolling Stones, Bob Marley and Bruce Springsteen have performed at the arena.
Since 2010, the building has been lying unused as the Catalan regional government has banned bull fighting.
If the plans for the Monumental are given the go-ahead, then it would be the first Muslim mosque in Barcelona. Even though the city has a substantial number of Muslims, there is still no mosque for the worshipers.
Will Mosque plans succeed this time?
This, however, will not be the first time that a mosque has been planned in Barcelona. Back in 2004, there was a plan to convert the bullring, Las Arenas, into a mosque, but later the plan was shelved and the building was made into a shopping complex, mainly due to public opposition.
A local Muslim and owner of a book store in Barcelona told spanish daily 20 Minutos that it would be a great initiative to have a mosque. "Locals would have to be proud that Muslims transformed the pain of the bulls into a spiritual center," said Mowafak Kanfach, owner of Barcelona's Arabic Book Shop.