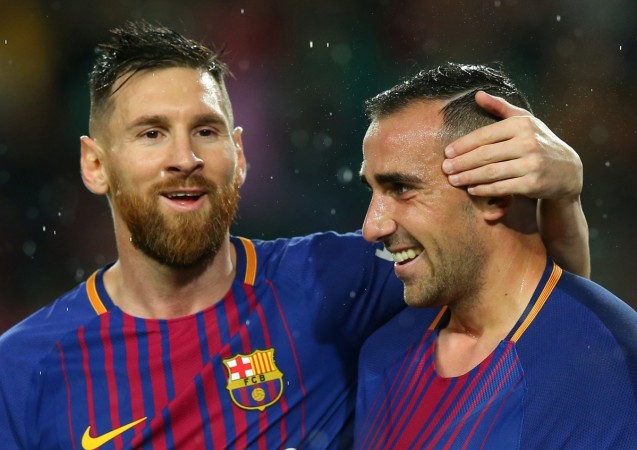 Barcelona head into their Copa Del Rey second leg clash against Real Murcia with a comfortable 3-0 lead. This encounter is set to be played at Camp Nou on Wednesday, and the home side is expected to stroll past the opponents and progress further in the competition.
With the tie in favour of the home team, Barcelona will be without some of their star players, such as Lionel Messi, Luis Suarez and Andres Iniesta.
It is not only about the relatively easier opponent that Barca are facing, which might have prompted the team management to make these changes. Their recent tough fixtures against Juventus and Valencia could also have led the team to take this decision.
However, this gives a wonderful chance for the Barcelona youngsters and reserves to impress manager Ernesto Valverde, who will also know where these players stand.
The likes of Paco Alcacer, Denis Suarez and Gerard Deulofeu will look to score goals and give Barcelona another impressive win against Murcia.
Valverde, despite the changes, is still aware of the job at hand. "We got a favourable result in the first leg, but we still want to go out and perform well. And Murcia are doing better now. They've won five of their last six games and will be coming to put up a fight, to play well as a team. We'll need to play some good football to win this one." Valverde said.
The visitors were outplayed in the first leg, and things are not going to be any easier for Real Murcia at the Camp Nou. Murcia now have nothing to lose, and should just play some carefree football and see what that leads to. They should not be overawed by the Camp Nou, and play for themselves, which could bring the best out of the team as well.
With some impressive wins of late, Murcia will head into this game confident, and manager Jose Maria Salmerón knows Barca's second team are also going to be strong.
"We're continuing to improve as a team. They're one of the best teams in the world, the current leaders of the First Division, and we know we're going to suffer, but we have to try our best...All of their players are world-class. Even their reserves, many of whom will very soon be top-flight players," Salmeron said.
Where to watch live
Barcelona vs Real Murcia is scheduled for 7:30 pm local time start (12 am IST, 6:30 pm GMT, 1:30 pm ET). Live TV listings and streaming options can be found below.
India: TV: No coverage
UK: TV: No coverage
Spain: BeIN Sports. Live streaming: Bein Sports Connect
Middle East: TV: BeIN Sports. Live streaming: Bein Sports Connect.
US: BeIN Sports. Live streaming: Bein Sports Connect