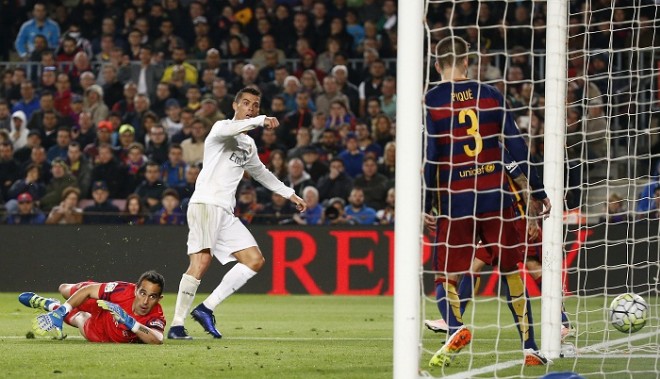 Cristiano Ronaldo scored the all-important goal in the 85th minute as Real Madrid defeated Barcelona at the Nou Camp, Sunday, with the score reading 2-1. Barcelona suffered their first defeat in 40 games with this scoreline.
Despite the loss, Barcelona are still favourites to win the La Liga title as they maintain a six-point lead at the top. Real are seven points adrift of their arch-rivals. However, this victory acts as a perfect revenge for Real, who had suffered an embarrassing 4-0 loss in their last El Classico at the Bernabeu.
It was by no means a game that ranked up there with other classic Classico matches, especially in the first half, where Barcelona got some chances but failed to convert them. Suarez missed an easy chance at goal. Real Madrid also looked decent, but there was nothing to write home about.
Real should consider themselves fortunate to play with 11 men after Sergio Ramos was shown the yellow card in the 10th minute. He should have received a second yellow, for bringing down Messi late in the half, but not even a foul was awarded.
The game sprung back to life during the second half, which witnessed three goals and a red card — a second yellow — to Ramos.
Barcelona took the lead in the 56th minute when Gerard Pique leaped high to score with a brilliant header. However, Real came back into the game with a brilliant scissor kick goal from Karim Benzema in the 62nd minute.
This goal gave Real immense confidence as they began to threaten Barca even more, and when Gareth Bale scored a header in the 82nd minute, one thought it was all over for Barca. However, it was ruled out by the referee. It was a harsh decision, and they received a major setback with Ramos shown the red in the 84th minute.
But Real were not perturbed as Ronaldo slotted the ball home after a brilliant pass from Bale a minute later. Though Barcelona gave it their all to draw level in the dying minutes, Real stood firm to register a massive win.
Barcelona vs Real Madrid highlights