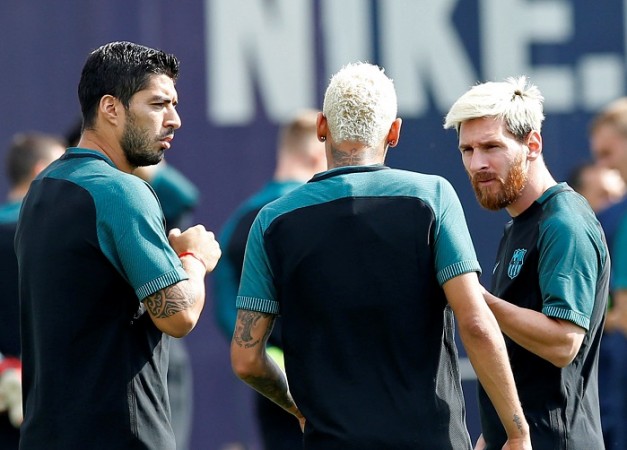 Barcelona have made it a habit of winning major titles every year, and Champions League always remains on their agenda. This time around, it is no different, and Barcelona will hope to secure three points as they open their Champions League campaign against Celtic at Camp Nou on Tuesday. Barcelona were knocked out in the quarterfinals last season, and they will hope to go all the way in this edition of the competition.
The Spanish giants, who lost to Alaves in their last La Liga match, will look to get back to their winning ways. With incredible players like Neymar, Lionel Messi and Luis Suarez, they are always going to be a threat to any team in the world.
Luis Enrique's men have already played Celtic in the pre-season, where they emerged victorious 3-1. Though Barca might not have been troubled much, this Champions League fixture is a different matter altogether, and Celtic will give it whatever they have got to stun Barcelona.
With Barcelona possessing incredible talent up front, it remains to be seen if Celtic manager Brendan Rodgers adopts five players at the back to contain the trio. They had opted for the same in the pre-season, but it did not work well. Enrique will not be surprised if they play with five once again.
"They did in the preseason, but they conceded a couple goals. We contemplate all possibilities, they always press after losing the ball, they don't fall back. We like that about Celtic," Barcelona FC's official website quoted Enrique as saying.
Talking about defence, Barcelona's performance at the back against Alaves was not inspiring as well. This should be encouraging for Celtic forwards especially Moussa Demeble, who scored a hat-trick against Rangers in their last match.
Celtic comes into this fixture with their heads held high, winning four in four in Scottish Premier League, including a 5-1 thrashing of bitter rivals Rangers. Rodgers is aware of the humongous task in the Camp Nou, against a team, which he believes is the best team in the world.
"For me, it's not. We are here to look to get a result. We understand and respect the difficulties there is to get a result here, coming off the back of the intensity of the programme we have been on and the Rangers game at the weekend and everything that we put into it to get the result," Sky Sports quoted Rodgers as saying.
"We respect this is arguably the best team in the world with probably a front three that is maybe the best of all time."
This match is going to be extra special for Suarez and Rodgers, who were part of Liverpool a few years ago. The manager has high regards of his former striker, and considers he will be a huge threat alongside Messi and Neymar on Tuesday.
"I know working with Luis that Luis on his own could occupy a back-four defence. So if you add Neymar and Messi into that then of course it is a very difficult task, but as a manager you have to believe you can get a positive result," Rodgers said.
"We want to come and enjoy it but we want to come and get a result. We are not here just to be passengers."
Barcelona will start the match as favourites, but they cannot afford to take Celtic lightly as the Scottish team have it in them to create a surprise victory.
Where to watch live
Barcelona vs Celtic Champions League match is scheduled for 8.45 pm CET (12.15 am IST, 7.45 pm BST, 2.45 pm ET) start. Live streaming and TV options can be found below.
India: TV: Ten 1 HD. Live Streaming: Tensports live.
US: TV: Fox Sports 1. Live Streaming: Fox Soccer 2 Go.
UK: Tv: BT Sport 3. Live Streaming: BT Sport Live Streaming.
Canada: TV: TSN 1. Live Streaming: TSN TV.
Australia: TV: BeIN Sports 3 Australia Live Streaming: Bein Sports Australia.
Middle East: TV: Bein Sports Arabia. Live Streaming: Bein Sports Connect.