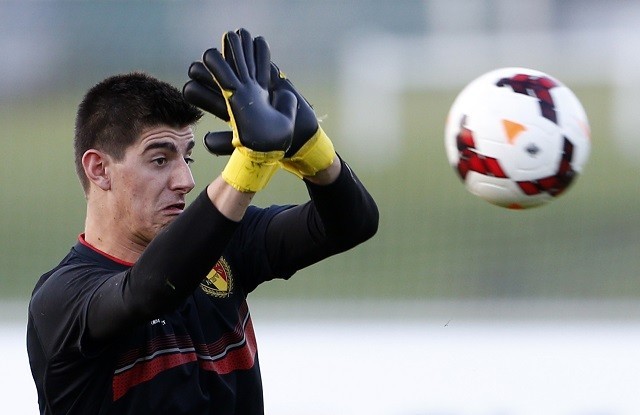 Barcelona president Sandro Rosell revealed his interest in Chelsea goalkeeper Thibaut Courtois, while admitting Victor Valdes was unlikely to sign a new contract.
Barcelona will need a new goalkeeper next summer, with Valdes refusing to sign a new deal, which will see him leave at the end of the season on a free transfer.
Courtois, currently on loan at Atletico Madrid, has been a name which has cropped up time and again as a potential Valdes replacement, and Rosell made the interest public by admitting his admiration for the Belgian international.
"He is a great goalkeeper, he is very good and I like him a lot," Rosell told reporters.
Courtois is on loan at Atletico for a third season now, with Petr Cech still very much the number one at Chelsea.
The young Belgian is yet to make a single appearance for Chelsea since his £5 million move from Genk in the summer of 2011, leading to suggestions he could be let go if a suitable offer were to be received.
Rosell said the club were still trying to get Valdes to sign a new contract, but does not expect a positive resolution. "Up until the last moment we will try to keep Valdes at Barca, but it will be difficult," he added.
Valdes, speaking to Spanish TV programme "El Hormiguero" said he would not even consider signing a new contract with Barca.
"There is an enormous amount of pressure on a goalkeeper. The club offered me a new contract, but I didn't even want to negotiate. There are a whole host of reasons -- seeking new challenges, a new league," the Spanish international said
"I feel like people understand me (and my decision to leave). I've felt the support of the fans this year."
Meanwhile, Rosell spoke about how Barcelona managed to seal the signature of Neymar, despite interest from other big clubs.
"I spoke with his father when we met in Miami and we closed the deal there," he said. "There were four parties that owned his rights as part of the agreement and we had to agree with all of those, but in the end we closed the deal for €57.5 million.
"The key was that the player wanted to come to Barcelona. It was not about knowing how to negotiate; he wanted to be here next to (Lionel) Messi and the rest of the team. Everything was based on that despite offers he had from Man City, Chelsea, Bayern and Real Madrid."