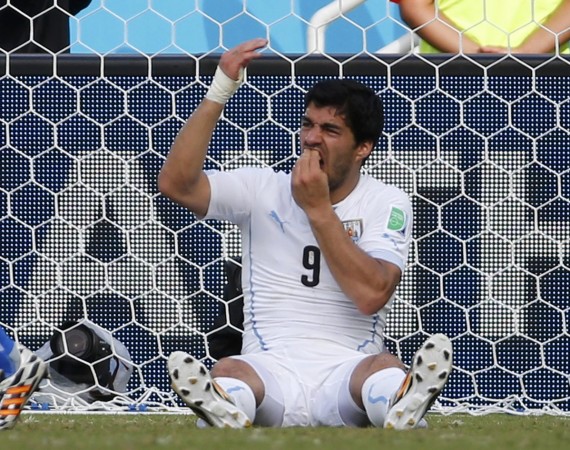 Barcelona sporting director Andoni Zubizarreta claims that Uruguayan striker Luis Suarez has shown a lot of humility by issuing a public apology for biting Italy defender Giorgio Chiellini during the 2014 World Cup.
The Liverpool striker was handed a nine-match international suspension as well as a four-month ban from all football-related activities by FIFA, after being found guilty of biting Chiellini during Uruguay and Italy's final Group D clash on 24 June.
Despite this lengthy suspension, Barcelona are reportedly still interested in Suarez, who single handedly helped Liverpool finish second in the Premier League last season, netting 31 goals in 32 games.
Suarez, who initially claimed that the whole "bite incident" was an accident, finally issued a public apology, insisting he would never repeat such behaviour in future.
And Zubizarreta praised Suarez for his actions, saying that the Uruguayan is "humble enough to admit an error."
"Suarez has shown he is humble enough to admit an error, which is very important. He has been humble enough to apologise to those he has affected, because it happened in the middle of a festival of football. In this case it's the best thing a person can do," said Zubizarreta
The 52-year-old Spaniard, however, played down Suarez transfer speculations, saying that he is still a "Liverpool player."
"Everyone knows that Luis is an excellent player, everyone knows last season he played in various positions in attack, but everyone also knows that he is a Liverpool player,'' he said.
Barcelona's latest signing Ivan Rakitic also echoed Zubizarreta thoughts by praising Suarez for making the apology.
"The fact he has had the character and the strength to go in front of everyone and say sorry says a lot about him as a person.I rarely say that I am wrong so this says a lot about him, he has shown the character and strength he has so he should be commended for that," said the Croatia midfielder.
Rakitic believes that Suarez, who enjoyed a very successful campaign with Liverpool last season, possesses the quality to play for a team like Barcelona.
"He has shown a lot of quality with Uruguay and scored more than 30 goals (last season) with Liverpool, so he has the necessary quality to play for Barca. Regardless of whether the club signs him or not, his quality is unquestionable."