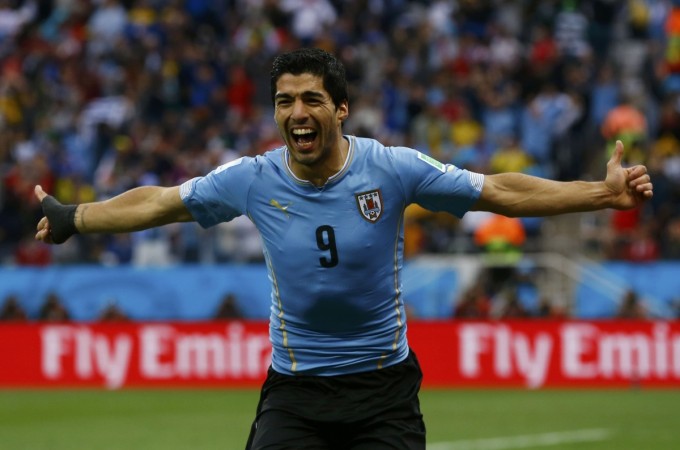 Luis Suarez's days at Anfield seem to be numbered after there were reports of some "productive talks" held between Barcelona and Liverpool over the transfer of the Uruguayan striker.
According to Sky News, some representatives of Barcelona reportedly met up with Liverpool managing director Ian Ayre in London on Wednesday to discuss the probably transfer of Suarez.
Although Uruguayan has proved to be a big hit at Anfield, scoring 31 goals in 32 appearances in the Premier League last season, Suarez has been involved in too many disciplinary cases, resulting in lengthy bans.
While he was banned for eight-games after being found guilty of racially abusing Manchester United defender Patrice Evra in the 2011/12 season, he was again handed a ten-match suspension for biting Chelsea defender Branislav Ivanovic towards the end of the 2012/13 campaign.
This time the former Ajax striker has been handed a nine-match international suspension as well as a four-month ban from all football related activity after being found guilty of biting Italy's Giorgio Chiellini at the 2014 FIFA World Cup.
This ban means that Suarez will be missing the first half of 2014/15 season, and Liverpool, who are paying the Uruguayan £200,000 per week, may be looking to cut their losses and sell him.
There are reports that Barcelona are looking to use their Chilean forward Alexis Sanchez as a supplement in their attempts to secure Suarez's signature.
Barcelona president Josep Maria Bartomeu recently stated at a press conference that he is looking to make a lot of changes to the squad, though he refused to give specific details.
"I announced months ago that the team would undergo a deep renovation but we cannot reveal details because we don't want to give clues away to any of our rivals," said Bartomeu.
"Our representatives are constantly travelling to other countries because of potential signings. We have the names and the players, but sometimes there are clubs who speculate over possible signings by Barca to manipulate the price. All I can say is that they are names that have been agreed with (new coach) Luis Enrique and they excite us."
However, the 51-year-old refused to comment on the possible transfer of Suarez, insisting that the Uruguayan is still a Liverpool player.
"Suarez is a Liverpool player so I can't talk about him, he belongs to another team, a rival team. But we are all football men, and saying sorry is honourable, it helps the competition," he added.
Nevertheless, Bartomeu commended Suarez for issuing a public apology for biting Chiellini.
"Luis has apologised and that is honourable, he's taken a step towards rehabilitating, the football world should support him and help him. As a football fan I hope he can turn a corner."
"He did something that wasn't right, so it's the responsibility of everyone in football, be it Liverpool or anywhere else, to remember that he has said sorry. Admitting you have done something wrong is very important."