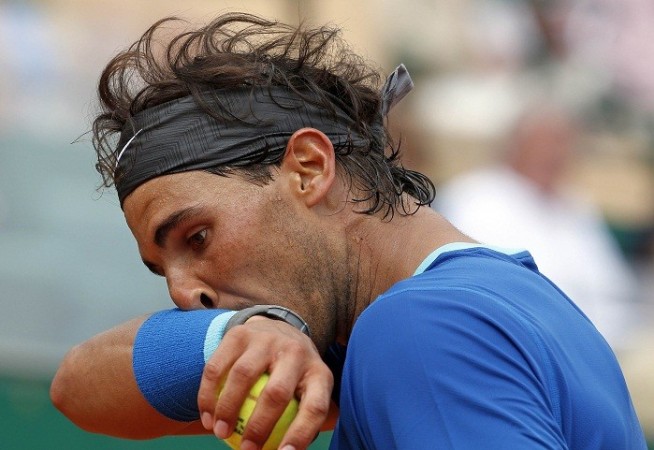 When he lost in Monte Carlo, the feeling was bitter. "Losing hurts everywhere. On clay always a little bit more," he had said. Rafael Nadal isn't supposed to lose on clay, and if he does like he did last year in the Monte Carlo Masters, he has to bounce back the rest of the season. But, that didn't sit well this year around.
Nadal, the king of clay has been invincible in Barcelona Open so far - having lost only once since 2003 when he made his debut as a 16-year-old. As if that record weren't enough, he had won 41 straight matches, eight titles in nine years, and 44 straight sets since the 2008 final. However, the victorious streak was put to an abrupt end by his Spanish compatriot Nicolas Almagro on Friday when he lost 6-2, 6-7 (5), 4-6. This was Almargo's first win in a career that has seen 11 meetings of the two.
This is the first time since 2004 that Nadal has finished the month of April without a title, after back-to-back quarter-final exits on consecutive Fridays at the Monte Carlo Masters and Barcelona Open.
"That's sport," Nadal said on Friday night. "Obviously it's not the happiest day for me, but obviously I never thought I would win here 70 matches in a row. It was not my day today. I felt I did a lot of things well to win the match, but at the end, there remained a little bit.
"Just accept the situation and keep fighting."
The losing Spaniard did well enough to take the first set 6-2, but his countryman -- who'll face Columbian Santiago Giraldo in the semifinals - recovered from being down 1-3 in the second set to take it to a tie break and winning it from thereon. It was the world no. 20's biggest career win finishing it in two hours and 48 minutes.
"For two sets I was playing better than him, much more chances than him," Nadal said. "I was in advantage, in control, and I missed a lot of opportunities during the match. And playing against a good opponent like him, the normal thing is lose in the end and that's what happened."
The world no. 1 needs to contemplate quickly and get his game together as he moves on to the Madrid Open, Rome Masters and Roland Garros - where he'll be playing to defend each of his titles.
Talking of the road ahead this clay court season, Nadal said he knows the areas he needs to work on and he should be ready for what lies ahead. "A little bit of rhythm, a little bit of intensity, playing a little bit more regular ... To play well on clay, I need to be more stable with my game."