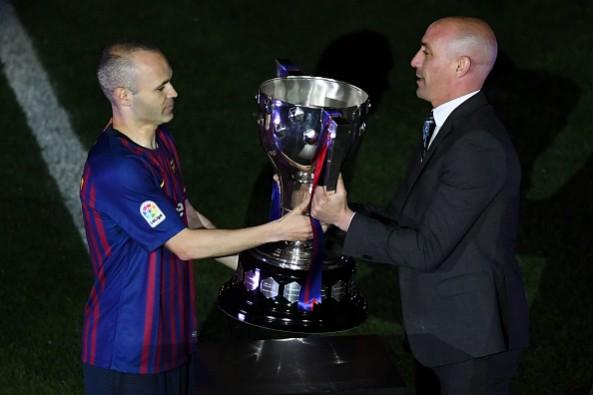 Andres Iniesta played his last game for Barcelona against Real Sociedad in a 1-0 win for the Catalans. The midfielder had called time on his 22-year career after lifting the title, in a season where they lost only one game. He was in tears as a video of his greatest moments played on various screens around the Camp Nou stadium he has graced for 15 seasons.
Iniesta carried the Spanish league title around the stadium as the Barcelona players celebrated with their families on the pitch. He had been joined by members of his family who had watched his final game alongside former Barcelona midfielder Xavi Hernandez.
"It is a difficult day," Iniesta said in a speech to the crowd after the game. "But it has been a wonderful 22 years. It has been a privilege and a pleasure to defend and represent this club, for me the best in the world. I will keep you in my heart forever."
An extravagant post-match ceremony followed, celebrating both Iniesta and the winning of La Liga and the Copa del Rey. Barca's players returned to the pitch all wearing shirts with Iniesta's name on their backs.
After 22 years at the club and 16 in the first team, Iniesta's 674 appearances for Barcelona is bettered only by Xavi Hernandez, who was also on the pitch before kick-off to join in the tributes. Iniesta sat on the pitch after the game for a length of time, soaking in the atmosphere, an occasion which is unlikely to repeat itself.
Iniesta himself recorded a video on Twitter where he thanked the fans for their support.
A host of great players and clubs from across the world paid tribute to the genius, who is likely to be on his way out of Europe.
End of an era. @andresiniesta8 leaves the Camp Nou. One of the greats of his or any other generation. Humble yet a champion. Modest yet magnificent. Diminutive yet a giant. Never again to play for Barcelona yet remembered for infinity. Gracias y adiós, el Don. #Infinit8Iniesta

— Gary Lineker (@GaryLineker) May 20, 2018