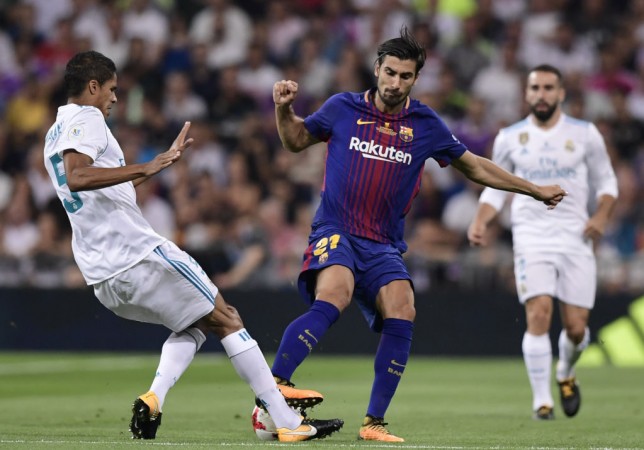 Barcelona fans gave Andre Gomes a warm reception during the club's Champions League win over Chelsea, days after the midfielder publicly admitted that the pressure of playing for the club had taken a toll on him.
Gomes, 24, had been struggling to meet expectations at the Nou Camp since he joined the Catalan club from Valencia in a £29m ($41m) move in 2016.
The Portugal international admitted in an interview over the weekend that his Barcelona career had "turned into a kind of hell" amid the persistent negative coverage of his performances on the pitch.
He was applauded by the Barcelona fans when he replaced Sergio Busquets during the club's 3-0 win over Chelsea in the Champions League round of 16-second leg.
"I don't feel good on the pitch," Gomes was quoted as saying by the Independent. "I am not enjoying what I am doing. The first six months were pretty good but then things changed. Maybe it's not the right word to use, but it has turned into a kind of hell, because I have started to feel more pressure... the feeling that I have during games is bad.
"I close myself off. I don't allow myself to get rid of the frustration I have. I don't talk to anybody. It's like I feel ashamed. Thinking too much has hurt me. I think about the bad things and what I have to do."
Speaking before the Chelsea game, Barcelona head coach Ernesto Valverde said Gomes had been "brave" to speak out and that he and the rest of the backroom staff would help the midfielder.
"It was very brave for Gomes to admit how he was feeling, in such a public manner," Valverde said.
The head coach added: "We are careful not to give out insecurities or weakness. But it's nothing new. He is not the only one. It's something which happened to most of us. It's something you have to face and overcome. We are here to help and we are going to help."