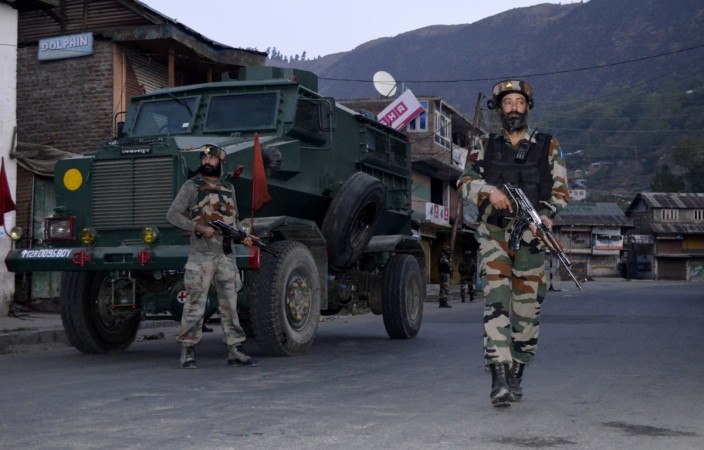 Jammu and Kashmir Police on Monday said that terrorists, who attacked Indian Army and Border Security Force (BSF) camps in Baramulla district late on Sunday, used civilians as shields to flee from the spot.
The attack killed a BSF jawan and injured two others. The Indian Army also neutralised two of the terrorists.
According to Senior Superintendent of Police Imtiaz Hussain, security forces could not fire at the terrorists as they were using civilians as a shield.
"There were around three-four terrorists. They attacked a BSF sentry post, following which the Army and the BSF responded. It dissuaded the terrorists from entering the Army camp. But a BSF jawan was killed and another was injured during the operation," Hussain told mediapersons.
Hussain added that an investigation has been launched to determine the background of the terrorists. The top cop also stated that security forces could not retaliate with heavy firing as the area was populated with civilians. Firing could have resulted in civilian casualties, a risk that the forces could not take.
"There is a lot of civilian population around the camps, which is why the security forces were not able to respond in a heavy manner. Otherwise, there would have been a lot of civilian casualties. Taking advantage of the dark and using civilians as shield, the terrorists ran off," Hussain added.
Anil Paliwal, Inspector General of the BSF Punjab Frontier, said that the border areas have been put on alert following the attack in Baramulla and the ceasefire violation in Poonch district. He, however, stated that the situation was now under control.
Prime Minister Narendra Modi has also been briefed about the situation at the Line of Control (LoC) and the preparedness of the armed forces by National Security Advisor (NSA) Ajit Doval.
Meanwhile, a high-level meeting with the three service chiefs was chaired by Defence Minister Manohar Parrikar to discuss the next course of action.
Pakistan violated ceasefire in three sectors - Shaharpur, Saujian and Mandi along the Line of Control (LoC) in Poonch as well as at Chaki village in Punjab's Gurdaspur district. Heavy mortar shelling and firing was reported from the Pakistani side.