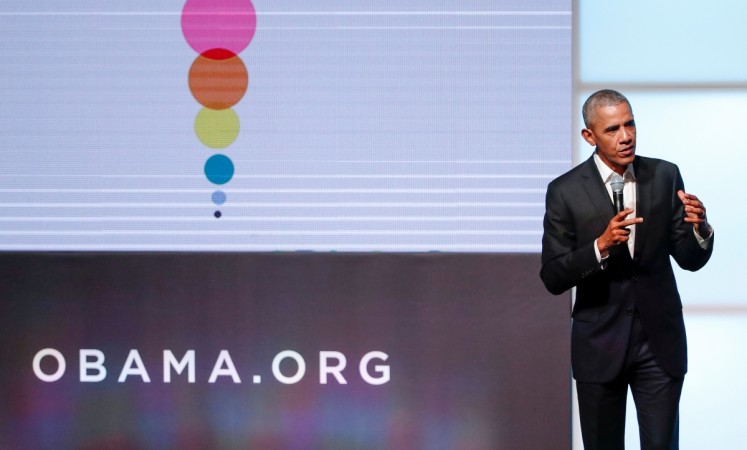 After US President Donald Trump's daughter Ivanka Trump visited India for the Global Entrepreneurship Summit in Hyderabad on November 28 and 29, the country is now set to host Barack Obama. The former US president is in New Delhi today, December 1, and will address a town hall in the capital city.
"I will be conducting a townhall with young leaders of India who can share with me some of the works they are trying to do to make communities better and also answer questions on how Obama Foundation can help," Obama wrote on Facebook. The townhall is scheduled for 3.45 pm and here the former president will interact with about 300 young leaders from across India. The interaction will be live streamed on Obama.org, and on the Obama Foundation's Facebook page and YouTube channel, reported NDTV.
The meet will "expand the conversation about what it means to be an active citizen and make an impact and how the Obama Foundation can support emerging leaders in this effort," Obama's office had said in a statement.
Obama will then also address Hindustan Times Leadership Summit and will meet Prime Minister Narendra Modi, with whom the former president shares a warm equation since he was in office. This is Obama's first India visit since he left office.
Meanwhile, a former resident of Minnesota who now lives in Delhi seems pretty pleased with Obama's visit but has advised him to wear a mask, not just for his own safety but also to raise awareness about Delhi's hazardous pollution levels. For this, Amrit Sharma has even written an open letter to the former president.
"You are one the most photographed people on earth, but none of your photos, yet, could potentially save millions of lives in your lifetime. I believe that if you wear a face mask while you're in Delhi and take a photo, that alone could have such a big impact," he noted.
Obama's India visit is a part of his three-nation tour. He was in Beijing on Wednesday, where he met Chinese leader Xi Jinping and discussed a number of issues such as US-China relationship, global development and way to facilitate peace and understanding.
Jinping then went on to laud Obama for the role he has played in developing and maintaining Sino-US ties. Obama's office also released a statement in which it said that the former president had "forged a close and cooperative partnership with President Xi on issues ranging from growing the global economy to combating climate change, and he looks forward to catching up with his former counterpart."
Obama will be in Paris later on Friday and Saturday and will speak at the introductory session of the Les Napoleons Summit and hold meetings with several leaders.