While families are reuniting to ring in the Christmas celebrations, it is the second time in the row that Brad Pitt and Angelina Jolie are not spending the holidays together and Angelina Jolie is to be blamed.
Speculations were on a high that Jolie was going to let Pitt spend time with the children on Christmas. However, according to sources of Life & Style, the actress has dished his holiday plans taking full advantage of having the upper hand over the children by not allowing them to his place.
Also Read: What! Brad Pitt is going to be a father again but Angelina Jolie is not the mom?
Apparently, it is not just the Christmas that she is not allowing the kids and Pitt to reunite. Sources claim that Pitt will not be given the custody of Maddox, 16, Pax, 14, Zahara, 12, Shiloh, 11, and nine-year-old twins Knox and Vivienne on New Year's Eve either.
"Angie's in the driver's seat when it comes to getting the children for the holidays and she's taking advantage of that," the insider said.
When Jolie filed for divorce, Pitt let his now estranged wife have temporary custody of the kids but the actress seems to have taken complete custody and is no mood to let the children meet Pitt. "He's trying to play nice. But every time he asks Angie for something concerning the kids, she shoots him down," the source said.
While this has got Pitt's holiday spirits down, Australian magazine NW claims that the actor is still trying to make his Christmas special. According to the claims, the actor is reuniting with his first wife Jennifer Aniston on the occasion and spending the annual holiday with her in Aspen attempting to rekindle his romance with the Friends alum.
According to the tabloid, Pitt has been "pretty depressed" about spending the holiday alone. That's when "Jen swooped in with her Christmas miracle," and invited him to spend the holiday at Aspen.
"He hasn't really been there since he and Jen split. He was so touched by Jen's offer and just grateful for her kindness... He loves talking and reminiscing with Jen about all the things they used to do together," the alleged insider claims.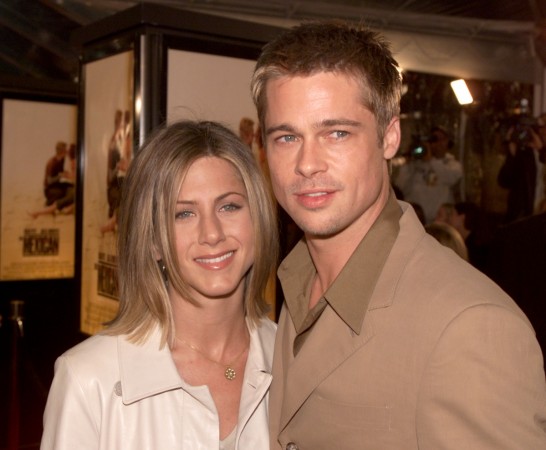 The supposed source goes on to even say that Pitt "can't help but wonder what life would be like if they were still together."
But what about Justin Theroux? There are rumours at high that he and Aniston are "on the brink of a split." A National Enquirer report also claimed that Aniston and Theroux are headed for a divorce.
While these claims are sure to stun, Gossip Cop debunks the Brad-Jennifer reunion story to clarify that neither are the former couple meeting nor are Justin and Jennifer separating.