The banking sector needs reforms, finance minister Arun Jaitley said on the sidelines of the two-day bankers' retreat on Saturday.
The minister called for conceiving several reforms in sector and spoke of the need to give greater autonomy to banks.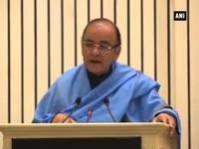 He exhorted public sector banks to handle commercial issues with a commercial mindset.
With the economy at a transformational stage, there was a need for the banking industry to help finance infrastructure development and the manufacturing sector.
Attract best talent, revamp the recruitment system and restructure compensation structure to bring in the talent, said Jaitley.
With bad debts reaching 12.9% of public sector banks' total advances as on 30 September, 2014, Jaitley termed the situation unacceptable in some cases.
Private sector banks bad debt recorded a substantially low 4.4% in NPAs.