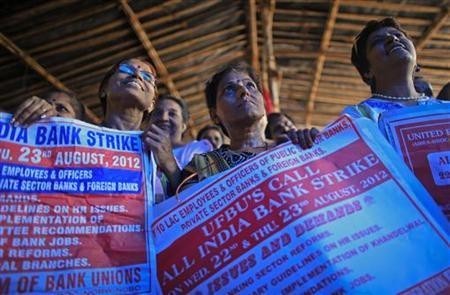 The nationwide two-day strike called by employee unions of public sector banks on Wednesday has held up nearly ₹24, 000 crore worth of cheques.
According to a Business Standard report, around 85,000 bank branches are not operating across the nation, resulting in 'non clearance of about 40 lakh cheques worth around Rs 24,000 crore'.
C H Venkatachalam, general secretary at All Indian Band Employee Association told the business daily that the strike called by the Employee Unions has also affected government transactions, foreign exchange and money market transactions.
Nearly 10 lakh employees called for the strike in protest for salary revision and bank reforms. About 1000 banks and 4000 ATMs were shut down by the employees in Siliguri, West Bengal, reported ANI.
The strike was witnessed from Kerala's capital city of Trivandrum to Kanpur in Uttar Pradesh. Public sector banks had informed about a likely inconvenience to customers after the strike was called.
The meeting on wage revision between the unions and Indian Banks Association had failed to land on an amicable solution before the Chief Labour Commissioner on Monday.
"Since their offer was too low and not acceptable to the unions, it has been decided to go ahead with strike as per the schedule," Ashwini Rana, General Secretary of National Organisation of Bank Workers, had said.