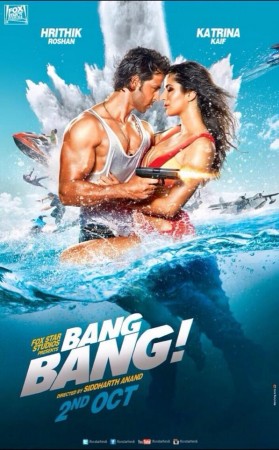 The viral one-minute teaser from Hrithik Roshan-Katrina Kaif starrer "Bang Bang" promises much more than just action and chase sequences. With its international look and feel, the prelude definitely has Roshan's fan base screaming for more.
Jetting out of water, zipping past cars, fighting the bad guys – the hero saves the day. However, in one of the scenes from the trailer, Roshan is seen driving a Formula 1 car (off the circuit) on the streets of Abu Dhabi. Describing it as an "intense, high-energy action sequence", director Siddharth Anand assures Times of India that the scene is clearly one of the firsts in the history of Hindi films.
Bang-Bang-Lightening:@iHrithik driving an F1 on the streets of Abu Dhabi for #BangBang pic.twitter.com/ECrc9JBiUv

— Faridoon Shahryar (@iFaridoon) September 1, 2014
Two F1 cars were on hire, and a mechanics team was being kept handy during the shoot. "Hrithik was trained to handle the machine for the stunt because these cars are not like your regular four-wheelers. There are gears on the steering wheel and the power behind the bonnet and the throwback is very different. It's like letting a tiger loose on Linking Road," adds Anand.
Roshan described it as a major "adrenaline rush" and added that it was "incredible" to drive the spectacular roads of Abu Dhabi. Apparently, traffic was successfully blocked, but fans and tourists couldn't be kept away.
"There were the two cars roaring through 50 regular cars, brought in to emulate the traffic, and 150 crew members dashing around to ensure that the sequence went off without a hitch. Just the sound was a shock," Anand noted.
Slated for a release on 2 October (alongside Shahid Kapoor's "Haider"), "Bang Bang" is the official remake of Hollywood blockbuster "Knight and Day" starring Tom Cruise and Cameron Diaz. But, Anand reportedly informed that there are no major similarities in the plot and that it's impossible to 'draw parallels'.
Watch the teaser here: