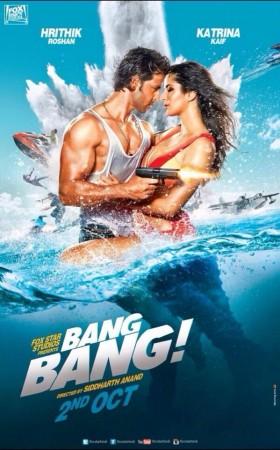 IBTimes India rating:2.5
Take a Hollywood blockbuster, add generous helpings of mindless high-octane action chases and garnish it with two extremely good looking people. Voila, your Rs 200 crore hit film is hot and ready to be served.
Siddharth Anand's "Bang Bang" follows the recipe ardently but becomes overconfident and lets everything slide. From using F1 racing cars, to water jets and what not, Anand clearly wants his audience to focus on the peripherals of the story.
Rajveer Nanda (Hrithik Roshan) is the dishy thief who steals the Kohinoor, and his chance encounters with bank receptionist Harleen Sahni (Katrina Kaif) result in an adventurous journey. Killing trigger-happy goons and dodging baddies, the couple globe-trots and eventually lands in the charming city of Prague.
What Sahni thought was a romantic getaway, turned out to be Nanda's mission to get to Omar Zaffar (Danny Denzongpa). Zaffar is Bollywood's quintessential villain, who loves his trying-hard-to-be scary dialogues and fashionable wardrobe, and is on the lookout for the international criminal (Nanda) who stole the big rock.
However, Nanda's mission and the twist supporting it is what the film holds for you. The plot devices used are too simple and do not work in its favour. But considering Anand's questionable resume ("Salaam Namaste", "Ta Ra Rum Pum" and "Anjaana Anjaani"), this action thriller might just redeem his nosediving career.
Amid all the high speed chases and runs, the acting bit is sorely missed. While Roshan juggles action and charm well, Kaif is too sprightly for a bank receptionist; and well, she does what she does best - give the I-am-so-pretty expression from start to finish. Unfortunately, Javed Jaffrey and Pawan Malhotra are two fine talents wasted in a plotless script.
Dialogues were surprisingly crisp and to the point. The action sequences have been intelligently choreographed but at times it blurs the line between reel and real.
The music and background score by Vishal-Shekhar is commendable as it lends support to the pace of the film and keeps dull moments at bay.
In a nutshell, "Bang Bang" is a plotless entertainer (like most of the Bollywood blockbusters).