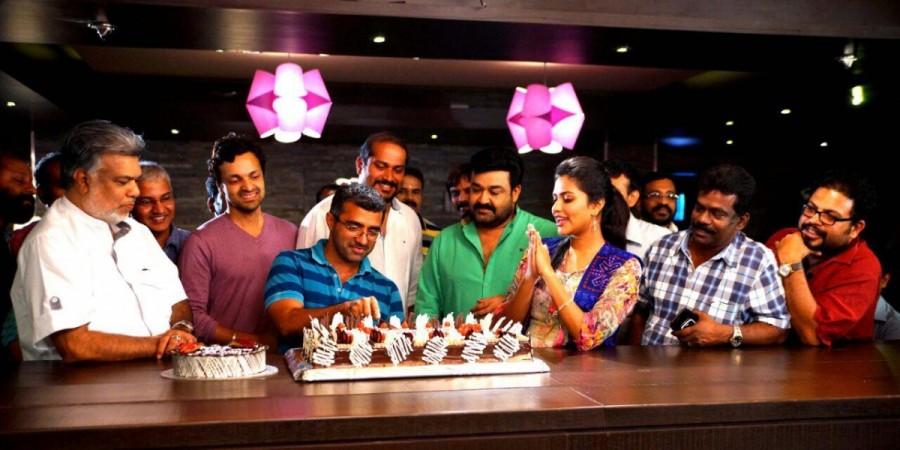 If you think Hrithik Roshan and "Bang Bang" team are the only people celebrating the success of the latest Siddarth Anand directorial, you are wrong.
Malayalam film industry too shared a piece of cake after the success of the Bollywood action film. It was the cast and crew of Mohanlal's "Lailaa O Lailaa" who celebrated the success of the Hrithik starrer. The team celebrated along with "Bang Bang" script writer Suresh Nair, who has also penned for the Joshiy directorial. The entire cast and crew of the Mohanlal starrer took part in the celebrations and congratulated the script writer.
Suresh is a popular name in Bollywood, who has written screenplay for more than 19 films, including "Jhankaar Beats", "Salaam-e-Ishq", "Namstey London", "Shootout at Lokhandwala", "Sing is King", "London Dreams", "Action Replayy", "Kahaani", "Delhi Safari", "D-Day", "Bang Bang", "Traffic" among others.
However, the box office reports from Kerala suggest that "Bang Bang" has become the highest grossing Hindi film in the state. The film earned over ₹4 crore in the first week of its release. The film was released in 105 screens in Kerala and had over 40 shows in Kochi on the first day itself.
Hrithik, who was overwhelmed with the response from the Kerala audience thanked them for making his film a success.
The Siddarth directorial has also made a record breaking collection of over ₹250 crore in the first week of its release. The film also had Danny Denzongpa and Jimmy Shergill in pivotal roles.
Meanwhile, Suresh is currently busy with the shooting of the Mohanlal starrer, which is currently progressing in Bangalore. The film also has Sathyaraj, Ramya Nambeeshan, Kalakalyani, Kainaat Arora, Ashvin Mathew, Rahul Dev and Joy Mathew in significant roles.
"Laila O Laila" is expected to hit theatres for Christmas.