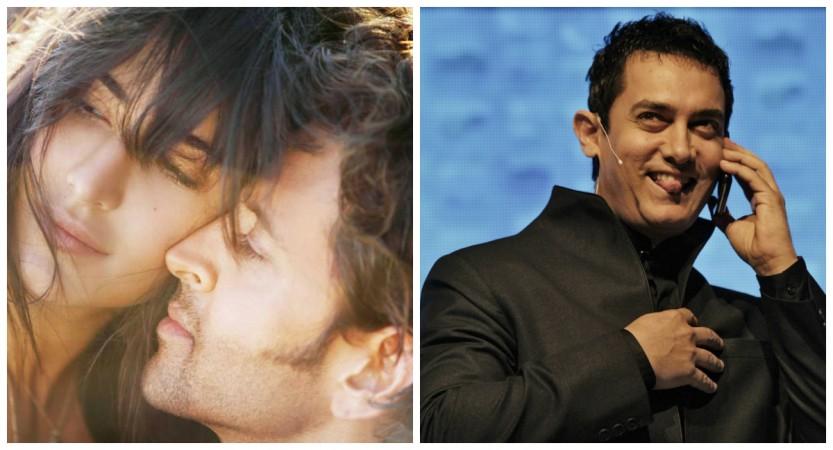 Hrithik Roshan's promotional strategies for his upcoming action flick "Bang Bang" have turned out to be quite successful.
Roshan, in his #bangbangdare, is now requesting his B-town friends to take up some challenging tasks. While several celebs including Priyanka Chopra, Sonam Kapoor and Ranveer Singh, who danced on a busy street, accepted and completed Roshan's "Bang Bang" dare, the latest target was superstar Aamir Khan.
Referring to a controversial poster of Khan's upcoming film "P.K.", where the perfectionist actor posed naked with just a transistor covering his modesty, Roshan challenged Khan to let go of the transistor.
"By POPULAR DEMAND! today's #bangbangdare goes 2 d man himself THE PK! @aamir_khan! Your dare is -"PUT THE TRANSISTOR DOWN!!" Roshan tweeted Khan.
Roshan even mentioned that if Khan refuses to accept the challenge, he would be punished.
However, quickly accepting the challenge, Khan replied to Roshan:
<#*£~#!!$*+#!! RT @aamir_khan: @iHrithik Will shoot it asap n send it 2 u!!! But i take no responsibility 4what happens after that (2/2)

— Hrithik Roshan (@iHrithik) October 1, 2014
And Khan accomplished the task in his own witty style.
The actor posted a short video on YouTube, sporting a t-shirt and a pair of trousers and of course, the transistor. And the "Dhoom 3" star finished the task, by placing the music box on the ground.
Khan's clever act made Roshan repost the video with the following tweet.
Hahahaha!Bolo doston,winner? Ya punishment!! RT @aamir_khan: @iHrithik Hey Hritik, so, here it is, ACCOMPLISHED! http://t.co/BXWa7eYQ7Z — Hrithik Roshan (@iHrithik) October 1, 2014
"Bang Bang", directed by Siddharth Anand, features Katrina Kaif as well and is set to release on 2 October. The action thriller is the official remake of Hollywood flick "Knight and Day" (2010), starring Tom Cruise and Cameron Diaz.