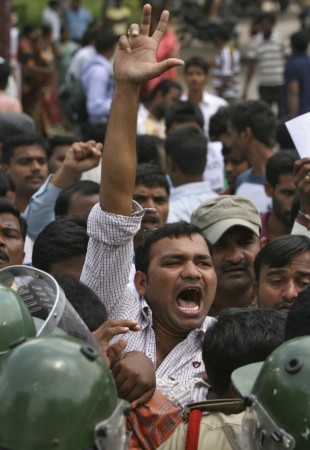 Residents of Telangana have to bear with shut shops, hotels, schools and colleges and no state buses today because of a bandh called by the Telangana Joint Action Committee (TJAC), which had succeeded in creating the break-away state from Andhra Pradesh last month.
The left groups in the state and the TJAC have called for a bandh to protest the Polavaram Dam Bill that was passed in the Lok Sabha on Friday, which is set to transfer 250 villages to Andhra Pradesh. The Modi government, which has a majority in Lok Sabha, pushed the AP Reorganization (Amendment) Bill citing that the 250 villages would be submerged due to the construction of the Polavaram dam and their transfer to Andhra Pradesh will ensure that there is no inter-state dispute to delay the project, according to The Times of India.
Telangana chief minister K Chandrashekar Rao had said that the passage of the Polavaram bill was "unfortunate and undemocratic".
The disputed villages are spread across seven mandals, namely Kukanur, Valerupadu, Burgampadu, Chintur, Kunavaram, Vara Ramachandrapuram and Bhadrachalam.
It is the left parties such as the Communist Party of India (Marxist) that are strongly opposed to the irrigation project because it will lead to the submergence of land that house several tribal habitations. About three lakh tribals are estimated to be at the threat of displacement because of the dam project. Apart from the ruling Telangana Rashtra Samiti (TRS), the Biju Janata Dal and the Indian National Congress also protested the passage of the Bill in the Lok Sabha on Friday.
Life has been hit because of the bandh, particularly in Hyderabad, with activists of the ruling TRS party calling for shop establishments, hotels and educational institutions to remain shut. Even the APSRTC will not ply, The Hindu reported. It is a second bandh within a month over the same issue of Polavaram Dam.
The Andhra Pradesh government has said it will complete the project in three years and the passage of the bill is set to clear all hurdles. "If the villages to be submerged are in Telangana and the Polavaram dam is to be built in AP, then it would have been a big hurdle for the project. Now, it is easier for us to compensate the land losers. We will rehabilitate them by providing land for land," Andhra Pradesh Finance Minister Yanamala Ramakrishnanudu told TOI.