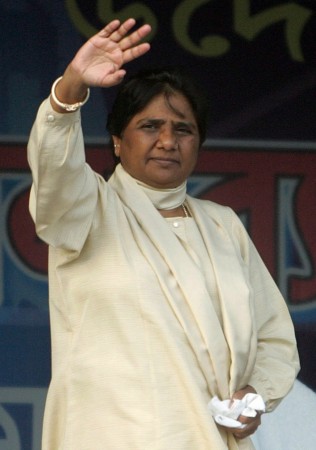 Bahujan Samaj Party (BSP) supremo Mayawati is dissapointed the Bharatiya Janata Party (BJP) and the Congress for politicising the Ayodhya issue ahead of the Lok Sabha elections next year and demanded that organisations like Rashtriya Swayamsevak Sangh (RSS), Vishwa Hindu Parishad (VHP) and Bajrang Dal be banned in the country.
Mayawati told reporters on Sunday that BJP and Congress are "playing politics of passion" as the Lok Sabha is not far off. She added that the Supreme Court should take suo-motu cognizance of their acts and take strict action for hurting the roots of secularism in the country.
The remark was made after BJP UP incharge Amit Shah visited Ayodhya, and Congress incharge of the state Madhusudan Mistry visited Faizabad.
The BSP supremo said at a press conference that the court should ban certain organisations that divide society instead of banning caste-based rallies.
"Religion based outfits like the RSS, VHP and Bajrang Dal, which have been indulging in communal politics, are also deciding the strategy of the BJP. They even decide the chief minister and prime ministerial candidates of the BJP. The HC must put a ban on them to stop them from dividing the society," she told reporters.
Claimed that her party organises caste-based rallies to create brotherhood Mayawati said, "The downtrodden were kept as slaves on the basis of socio-economic and educational basis" because of which Dr Ambedkar adopted reservation policy in the Constitution.
BSP has also served a show-cause notice to its Hamirpur MP Vijay Bahadur Singh for calling Gujarat Chief Minister Narendra Modi a nationalist. Mayawati took a dig at Modi saying that the constitution is based on "secularism and not on Hindutva".
The BJP hit back at Mayawati saying that she has political motive to demanding a ban on RSS, VHP and Bajrang Dal.
"Mayawati is rattled at the prospects of her party being reduced to being an also-ran in Uttar Pradesh. Hence she is making such wild demands," BJP president of the state, Laxmikant Bajpai told IANS. "While they call us communal, all parties, including the Congress, Samajwadi Party (SP) and the BSP are vying with each other to net the minority vote,"
VHP spokesperson Sharad Sharma also said that the former UP chief minister was trying to win the the votes of the minorities instead of acknowledging the works they have done.