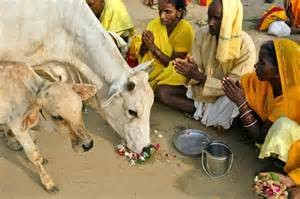 In a rare meeting of deities, a unique custom in the Kullu valley of Himachal Pradesh, a goddess has come out in support of the recent ban imposed on animal sacrifices for religious purposes in the state.
After the Himachal Pradesh High Court had banned animal sacrifices during religious occasions in the state, more than 200 deities came together in an extraordinary conclave called 'Jagati Puch' to decide on the matter.
The 'God's Conclave' called 'Jagati Puch' is a unique tradition in the Kullu Valley, wherein deities 'assemble' in extraordinary situations and give their verdicts through 'oracles'.
Gods' Conclave: Deities to Come Together to Decide on Animal Sacrifice in Kullu
Essentially, palanquins of local deities are carried to the temple and the locals believe that they communicate and discuss through oracles, who ultimately give their decision to the erstwhile ruler of Kullu Maheshwar Singh, chief representative of Lord Raghunath, the valley's chief deity.
Goddess Hadimba, a prominent deity, was the first to come out in support the ban on Sunday, as reported by IANS.
"According to the directive of goddess Hadimba, the centuries-old practice of sacrificing animals, for religious purposes, has been stopped in the temple and elsewhere," priest Sher Singh of the Hadimba temple told IANS.
The goddess' decision, conveyed through an oracle, saved the lives of several goats and lambs that were being readied for sacrifice at the new Hadimba temple.
A new temple has been built at the site in Saraho village in Cheuni and was reopened for the public last October, when more than 150 animals had been sacrificed on the occasion.
Her decision is likely to influence other deities to support the ban.
"Goddess Hadimba holds a prominent position in Kullu Dussehra. The Dussehra celebrations begin and end with her permission. So the decision to stop animal sacrifice will inspire other deities to shun the ritual," an official told IANS.
In a landmark judgment on 1 September, the High Court had banned the sacrifice of animals in temples, saying they cannot be permitted to be killed in a barbaric manner to appease the gods.
Following the High Court's order, there were several protests as it went against several traditional customs and rituals in the valley. Animals, such as buffalos, sheep or chickens are sacrificed at the end of the centuries-old Kullu Dussehra festival, which concludes on Thursday.
While the High Court quashed the plea to review the decision, officials have moved the Supreme Court with a special leave petition (SLP) challenging the ban.
The congregation of gods, which began on 26 September, is a rare phenomenon, and comes after eight years. The last 'Jagati Puch' was held in February 2006, after a gap of 35 years, to decide the fate of a Himalayan Ski Village project promoted by Alfred Ford of Ford Motor Co. The deities, in a divine judgment, had turned down the ₹1,600-crore project.