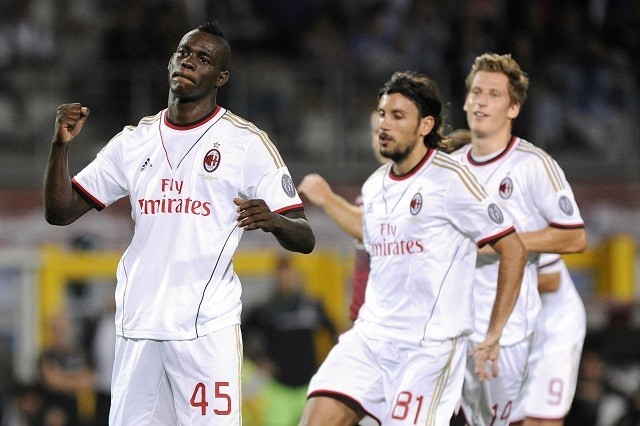 Italian striker Mario Balotelli missed a penalty for the first time in his career. The incident occured on Sunday when AC Milan took on Napoli in Serie A.
Napoli Goalkeeper Pepe Reina has the honour of being the first person to deny the Italy international from the spot.
Since his time at Inter Milan, Manchester City and now AC Milan, Balotelli had scored all of his 21 penalties taken. With Milan 2-0 down and 59 minutes played, Raul Albiol tackled the striker just inside the box. He stepped up to take the kick himself, sending it to the keeper's left. Reina dove the right way and was able to turn the shot away for a corner.
The contest between Balotelli and Reina lasted throughout the game, with Reina arguably the winner. The Italian forward had several shots on target which the Spanish keeper was able to block. However, Balotelli was able to atone for the penalty miss with a spectacular goal in stoppage time. He picked up the ball close to the edge of the box, opened his body and curled the ball with the inside of his foot. The ball arched into the top corner.
Balotelli's goal was a mere consolation as Napoli were able to hold on to win 2-1, continuing their impressive start to the season. After the game, Reina was pleased with the penalty save and the victory.
"As always, we studied the Milan players. We knew Mario was very strong at penalties, but I managed to get it," he was quoted as saying by Goal.com.
"It has been a great start to the season," he continued. "We knew it was a long time since Napoli had beaten Milan at San Siro and getting a result like this against a strong side really boosts our confidence."
The win was their first at the San Siro in 27 years and maintains the 100 percent record this season. With four wins out of four games, Napoli are joint top of the table with Roma.
Napoli won the game in two five-minute spells at the start of the game and straight after half time. They started the game with an attacking intent, playing at a high tempo and creating three clear-cut chances. The pressure resulted in a goal with Miguel Bristos heading in after a free-kick on the sixth minute.
Straight after half time, Gonzalo Higuain picked up the ball outside the box, turned and unleashed a low drive that found the net. At 2-0 up, Napoli were able to see the game out.
Milan fans can't help but think what would have been had Balotelli made it 2-1 with half an hour to play. Reina, however, ensured that the comeback would not materialise.