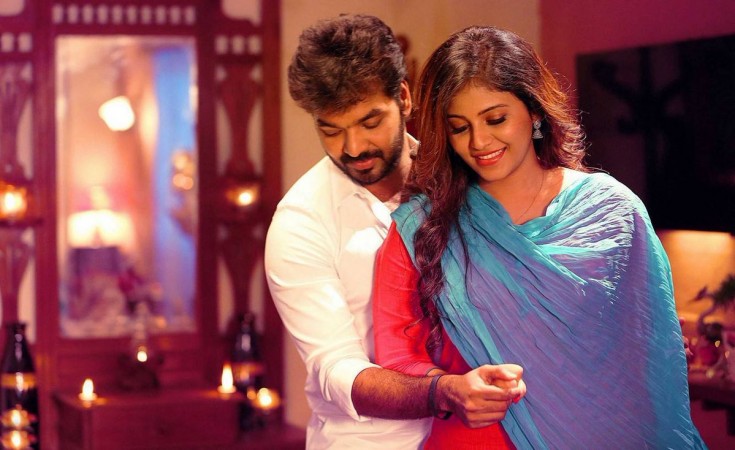 Sinish's Balloon is the latest addition to the long-list of horror movies made in Kollywood in recent years. The movie stars Jai and Anjali, the rumoured real-life couple, in the leads. Janani Iyer plays an important role in the flick, which also has Chandini Tamilarasan, Yogi Babu and others in the cast.
Yuvan Shankar Raja has composed the music. His 'Neenga Shut Up Pannunga,' a catch phrase made famous by actress Oviya during her stint in Bigg Boss Tamil, has struck a chord with the viewers. The title track too has won the hearts.
R Saravanan has handled the cinematography, while Ruben has edited the flick.
The movie is rumoured to be inspired by Hollywood film It, a screen-adaptation of Stephen King's popular novel of the same name. The creepy clowns and the balloons apparently have significance in the storyline just as in the English flick.
Moreover, the director has himself admitted that his work is inspired by a lot of films. Hence, it would not be a surprise if people discover similarities between the two films.
Reviews:
Balloon, which will hit the screens on Friday, December 29, has managed to garner people's attention with its promos. Will it live up to the viewers' expectations? Find it in the viewers' words:
Manobala Vijayabalan: #Balloon 1st half: - Starts with a haunted house near Ooty. - Scares you in parts. - Anjali-Jai chemistry came out well. - Top notch comedy from Yogi Babu. - Pappu counters are a delight. - Almost all actor references are present.
#Balloon 3.25/5: Good one by @sinish_s. @Actor_Jai as an aspiring director & Balloon seller is fantastic. Great performance from @yoursanjali. @jan_iyer impresses in the short role she has got. Yogi Babu & Pappu rocked it. @thisisysr bgm is a big plus.
Vignesh: #Balloon - Interval - Usual horror story that suffers from clichéd moments. Cinematography and Comedy works to an extent, but movie lacks in terrifying horror scenes. Pretty average so far.
Arulraj: #Balloon 1st half over
Nalla iruku...
Good entertainment and thriller
#Yogibabu Sema...
Bgm killer
2nd nalla irukum ninaikuren @thisisysr
@sinish_s
sridevi sreedhar: Thoroughly enjoyed watching #Balloon . Has a smart premise and thrilling moments aplenty. A well packaged thriller which turns out to be an engaging watch... @Actor_Jai @sinish_s @jan_iyer #Anjali
Karthik Raja V: #Balloon. Neatly worked Horror Comedy flick. Do experience the chill moments in theatres. @YogiBabu_offl & @karthikyogitw scenes are mass... Congrats @sinish_s brother and team.
#Balloon. Neatly worked Horror Comedy flick. Do experience the chill moments in theatres. @YogiBabu_offl &... https://fb.me/1q4AvYedf
Prashanth Rangaswamy: #Balloon interval - Laughing my lungs out here. Yogi babu's name is panda and he eats mutta honda . Your stomach will hurt from his comedy. Street smart commercial horror flick from @sinish_s . So looking forward to the second half !
Rajkumar Periasamy: Enjoyed the premiere last night Sinish. U guys have made an entertaining horror thriller filled with humour. Wishing u all success with #Balloon
Review Ram: #Balloon (Tamil) - Interval - Scary at times, usual horror treatment and predictable stuff. Camera work and BGM are fine, Yogi Babu's counter punches are rocking. Break point is intense. 'Well packaged' so far. @sinish_s @jan_iyer @yoursanjali @auraacinemas @Actor_Jai
Abishek S: @iYogiBabu on fire! Also liking how it is shot!
@sinish_s makes the #balloon fly high using comedy and a back story that doesn't get completely revealed!
#FirstHalf 2nd half is tad longer, but post climax did have a nice touch!
Made on the classic revenge drama premise, #Balloon might work for a leisure watch!