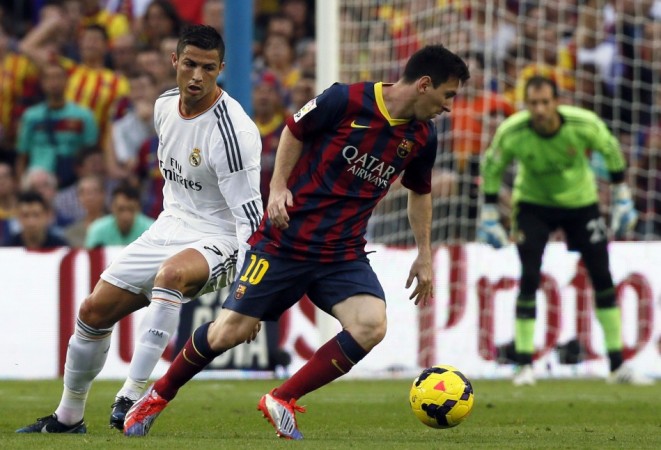 Usual suspects Lionel Messi and Cristiano Ronaldo headline the shortlist for the FIFA Ballon d'Or award.
Messi, who has won the prestigious award for the world footballer of the year for the past four years, will again be the favourite, but does face competition from Ronaldo, with the likes of Gareth Bale, Zlatan Ibrahimovic and Franck Ribery not too far away.
While it is likely to be decided between Messi and Ronaldo yet again, Ribery is seen as having an outside chance after a brilliant season for Bayern Munich, which saw the German side win the Bundesliga comfortably, while also capturing the Champions League.
Apart from Ribery, Bayern are represented by Thomas Muller, Philipp Lahm, Manuel Neuer, Arjen Robben and Bastian Schweinsteiger in the 23-man shortlist.
Barcelona are next up, with Xavi, Andres Iniesta and Neymar joining Messi, while Real Madrid have Ronaldo and Bale.
The English Premier League is represented by five players, namely - Robin Van Persie of Manchester United, Mesut Ozil of Arsenal, Manchester City's Yaya Toure, Chelsea playmaker Eden Hazard and Liverpool's controversial yet talented forward Luis Suarez.
The French league, thanks to some high-profile buys from moneybags Monaco and Paris Saint-Germain, are well represented with PSG trio Edinson Cavani, Zlatan Ibrahimovic and Thiago Silva making the shortlist, while Monaco will rely on Radamel Falcao.
"The list of 23 male candidates has been drawn up by football experts from the FIFA Football Committee and by a group of experts from France Football," FIFA said in a statement on their official website.
Sir Alex Ferguson, who retired as Manchester United manager at the end of last season, tops the ten-man coach of the year shortlist with Arsene Wenger of Arsenal and Chelsea's Jose Mourinho among the names.
"The list of ten coaches has been drawn up by the Committee for Women's Football and FIFA Women's World Cup and by the FIFA Football Committee, as well as by a group of experts from France Football," the statement added.
The nominees will be pruned to three each in December, before the winners are announced in a gala ceremony in Zurich on 13 January.
Ballon d'Or shortlist: Gareth Bale (Real Madrid/Wales)
Edinson Cavani (Paris St Germain/Uruguay)
Radamel Falcao (Monaco/Colombia)
Eden Hazard (Chelsea/Belgium)
Zlatan Ibrahimovic (Paris St Germain/Sweden)
Andres Iniesta (Barcelona/Spain)
Philipp Lahm (Bayern Munich/Germany)
Robert Lewandowski (Borussia Dortmund/Poland)
Lionel Messi (Barcelona/Argentina)
Thomas Muller (Bayern Munich/Germany)
Manuel Neuer (Bayern Munich/Germany)
Neymar (Barcelona/Brazil)
Mesut Ozil (Arsenal/Germany)
Andrea Pirlo (Juventus/Italy)
Franck Ribery (Bayern Munich/France)
Arjen Robben (Bayern Munich/Netherlands)
Cristiano Ronaldo (Real Madrid/Portugal)
Bastian Schweinsteiger (Bayern Munich/Germany)
Luis Suarez (Liverpool/Uruguay)
Thiago Silva (PSG/Brazil)
Yaya Toure (Manchester City/Ivory Coast)
Robin van Persie (Manchester United/Netherlands)
Xavi (Barcelona/Spain)
Coach shortlist: Carlo Ancelotti (PSG/Real Madrid CF)
Rafael Benitez (Chelsea FC/ Napoli)
Antonio Conte (Juventus)
Vicente Del Bosque (Spain)
Sir Alex Ferguson (Manchester United)
Jupp Heynckes (Bayern Munich)
Jurgen Klopp (Borussia Dortmund)
Jose Mourinho (Real Madrid /Chelsea)
Luiz Felipe Scolari (Brazil)
Arsene Wenger (Arsenal).