While the Mount Agung volcano in Bali, Indonesia, has been rumbling and threatening to erupt for the past few weeks, even leading to residents of the region vacating their homes and moving to safer locations, the island witnessed ash puffs and an orange glow on the peak on Saturday as well as Sunday.
Now, the eruptions are likely to get more intense and in view of this Indonesian authorities have sounded the highest level of alert. The island's Ngurah Rai International Airport, as well as the Lombok airport, have been closed and the over 25,000 people living within a 10-kilometre radius have been asked to evacuate immediately. Hundreds of flights have been cancelled as well.
Dark smoke has been seen billowing from the mountain and authorities are now said to be giving out masks to the residents of the island, reported BBC. The national disaster management agency has also said that there could be an increase in the amount of cold lava and has asked residents to avoid going to rivers.
"Continuous ash puffs are sometimes accompanied by explosive eruptions accompanied by a weak sound of boom," the national board for disaster management wrote on Facebook. "The rays of fire are increasingly observed at night. This indicates the potential for a larger eruption is imminent."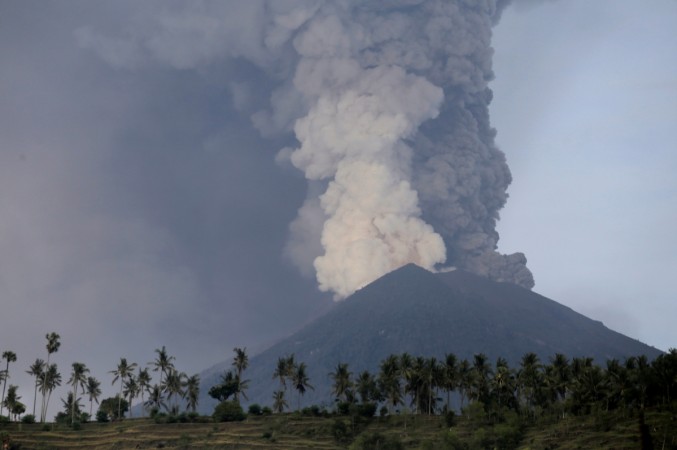 Explaining the situation, Mark Tingay, a geologist at the University of Adelaide's Australian School of Petroleum, told CNN that the local authorities in Indonesia are well-versed with such emergencies and are handling things well.
"The volcanic eruption has now moved on to the next, more severe, magmatic eruption phase, where highly viscous lava can trap gasses under pressure, potentially leading to an explosion," he said in a statement on Monday.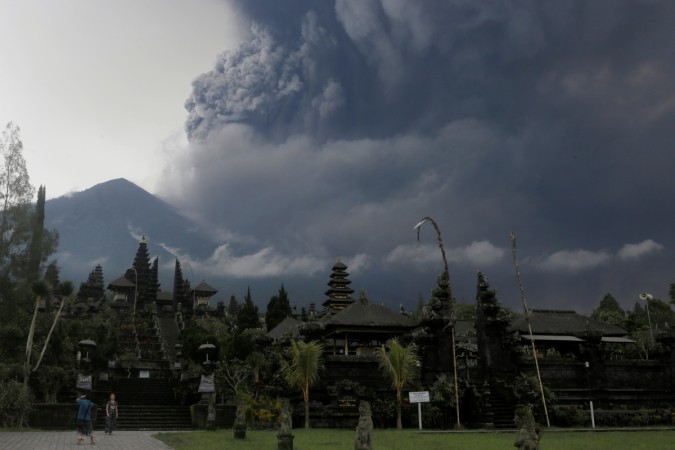 The last time that the Mount Agung volcano exploded was in the year 1963. The residents of the island heard explosions and rumbles in February and Agung erupted a month later, killing over 2,000 people and devastating several villages.
This year, the Mount Agung volcano started rumbling late September, and over 700 tremors were recorded in just one day. The strongest tremor was measured at 4.3 on the Richter scale and that sent tourists and adventure lovers into frenzy. The bustling islands of Bali and Vanuatu wore a deserted look as even residents moved to safety.
Seismologists also said that Mt Agung had inflated in the last few weeks and cracks on it had been emitting white smoke that was gradually increasing. However, the volcano did not erupt immediately, due to which numerous residents even moved back to their homes.
Strangely, many people did not seem to believe that the volcano would erupt and three priests even climbed to the top of Mount Agung in Bali to make an offering and prove volcanologists wrong.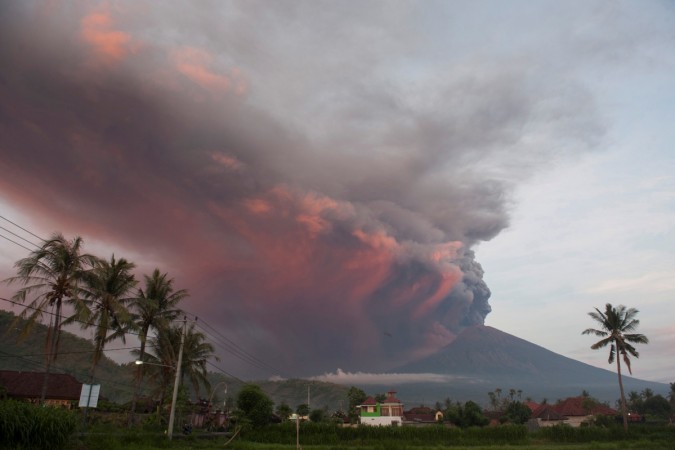 Jero Mangku Ada, one of the priests who climbed the Mount Agung amid eruption warnings, told Fairfax media that "god spoke to him" while he was living in one of the evacuation centres. "I was requested to make an offering and I did just that because I want the people of Bali to be safe. If I was not told to go up there by something higher up than the government I would not have gone up there."
Another Hindu priest Mangku Mokoh said that he did not really believe that Mount Agung was going to erupt. "I'm not sure that Mount Agung will erupt," the Telegraph quoted him as saying.
The priest even said that Mount Agung was angry about people having sex and menstruating on it. "The climbers did that," he said.