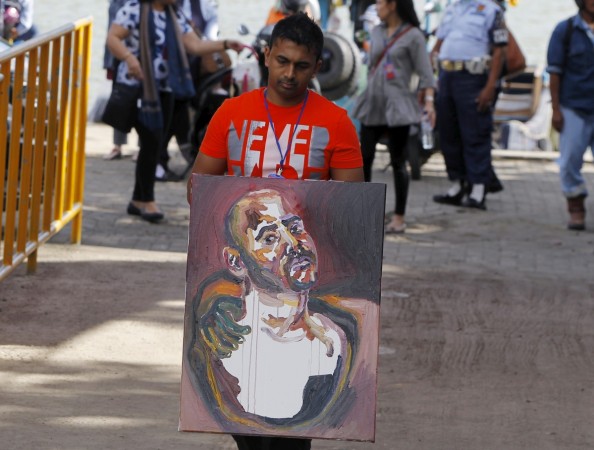 Bali Nine death-row convict Myurun Sukumaran will face the firing squad without a blindfold when he is executed after midnight on Tuesday, according to his painting teacher.
The Australian, who will be executed along with co-Bali Nine convict Andrew Chan and seven others at Indonesia's Nusakambangan island, will "look his executioners in the eye", Sukumaran's friend has said.
Australian artist Ben Quilty said that Sukumaran, whom he had taught to paint, does not want his mother to "think he is a weeping mess at the end".
"Myuran always said to me that he would never take this lying down; that he would stare them down, that no one would cover his eyes, that he would face it with dignity," Quilty had said on the radio, according to The Sydney Morning Herald.
"He will face it with strength and dignity, I know that, I know that about him, because he won't want his mother to think he's a weeping mess at the end. He'll want his mum to think that he's brave and strong and dignified and she should be proud of the man that he's become," the artist said on 2GB Radio.
When the death-row convicts face the firing squad, they will be asked whether they want to wear a blindfold, and if they wish to stand or kneel down.
Sukumaran has taken to painting over the last few days, and the haunting images that he has sent out of prison with his lawyers have already created a stir across the world as they reflect the trials of a man waiting for death.
His final painting, a self-portrait titled "Time is Ticking", depicts Sukumaran with a large hole in his chest, probably reflecting how 12 trained executioners will aim their guns at his heart in an isolated room at the time of the execution.
Only three of the 12 guns will be loaded and the shots will be fired at the heart from a distance of five to ten meters.
Sukumaran's previous paintings, depicting the human heart and blood, were signed by all the nine convicts, who wrote messages such as "God bless Indonesia" and "keep smiling".
Relatives of the convicts met them for the last time in their cells, in a highly emotional and charged meeting on Tuesday. Apart from the two Australians, the other death row convicts include four Nigerians, one Filipina, one Brazil national, and an Indonesian.
The convicts will now not be allowed to meet any friend or family and will only have the company of a pastor during their final moments.
The families of Chan and Sukumaran have said that Indonesia's decision to not grant the two convicts pastors of their own choice is "the last bit of dignity denied".