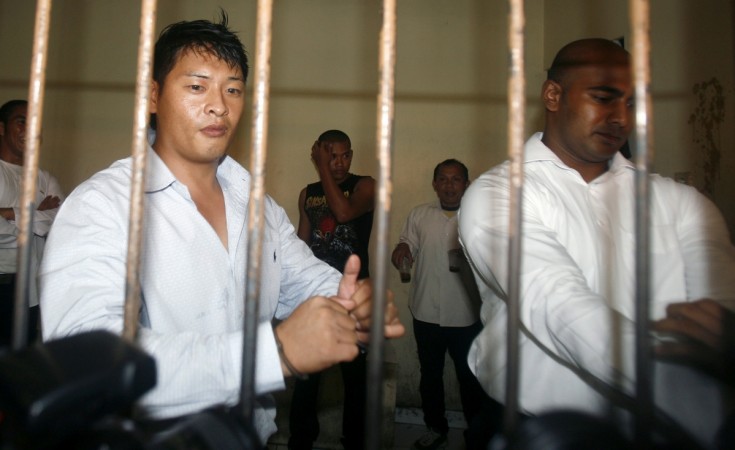 Indonesia is expected to carry out a mass execution of drug traffickers this weekend, including nine convicts, now known as the 'Bali Nine'.
The 'Bali Nine' group includes the two kingpins – Australian nationals Myuran Sukumaran and Andrew Chan – who were arrested along with seven drug couriers almost a decade ago.
Indonesia's Attorney-General HM Prasetyo, while addressing the House of Representatives Committee in Jakarta on Wednesday said that the duo would "hopefully" be executed in the next round of capital punishment. "We cannot be sure yet" if Sukumaran and Chan would be executed next," he was quoted by the Business Insider as saying on Thursday.
"It depends on the files," he added.
However, in a contradictory report on Wednesday, Business Insider quoted an Australian news channel to say that the two Australians were not on the execution list.
The first round of such executions took place on 18 January. Prior to that, Prasetyo had said that if a crime is committed by more than one person, the executions of convicts also should be carried out at the same time. This implies that Sukumaran and Chan would be executed together.
In April 2005, Sukumaran and Chan, then 24 and 21 respectively, were arrested by the Indonesian police for organising a Bali 'holiday' for seven other young Australians, according to The Guardian.
Seven other members of the 'Bali Nine', as they are now known, admitted to their crime of being drug couriers and are serving life or 20-year prison sentences.
But Chan and Sukumaran, who denied their involvement in the crime and blamed the couriers for implicating them, were confronted with "extensive surveillance, phone records and the evidence of the couriers," and proved guilty. They were sentenced to death by firing squad in 2006.
Indonesian authorities generally notify the prisoners three days prior to their execution. Therefore, if Sukumaran and Chan are to be executed in the coming weekend, it would be confirmed by 30 January.