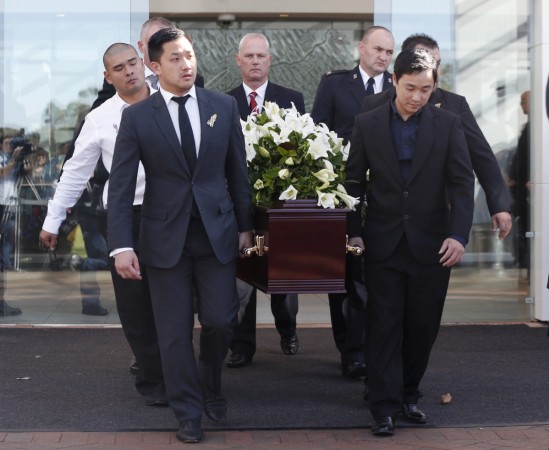 Andrew Chan, the Australian Bali Nine ringleader who was executed by a firing squad in Indonesia on 29 April, had penned his own eulogy to be read at his funeral.
Chan wrote his eulogy as if he was already 'in heaven', and how he sang 'Hallelujah!' in his last moments on earth.
Chan had converted to Christianity and become a pastor after he was jailed in Indonesia in 2005, his brother said at the funeral.
The touching letter was read at his funeral service in Sydney on Thursday.
Read the full text below:
Thank you all for gathering here on this day to witness something great. It's a day that I will arise from my own coffin, right now as the words are spoken, in Jesus' name, arise. Or I am just enjoying it too much in heaven, and I will wait for you all up there. Now I know it is a sad day, we would have all wished it didn't come to this. However it is funny that even in death there's still a lesson to be learnt.

We learned that we do not need to be old to die, nor do we need to have something wrong with us. But we learned that when it's time to go home, God has the kitchen table and sink ready. Every person that is sitting here now has impacted my life in one way or another. The truth is, you have all taught me just as much as I have taught you. If I had to thank everyone individually, I don't think I can place them on one sheet of paper.

And one of the biggest influences in my life is my brother. Stand up Mick, and look at the crowd, knowing that you'd hate to do that, because you don't like the spotlight. People were touched by his love, time, effort, persistence, and many other things through him. And I've learnt a lot through Jesus too. I promised Mick I would not steal your birth certificate in heaven to make a fake ID.

Another person I learned so much from is my wife Feby. She has taught me the meaning of love and endurance, peace and much more. As I said, to all of you gathered here today, taught me something valuable in life which I have learned to cherish. Treat each day as a diamond, for each day is valuable, as you can never buy it back. Learn to use it doing the things you love, spend it with the people you care for most, because we just never know when we will say goodbye.

My last moments here on earth I sing out 'Hallelujah!' I ran the good race. I fought the good fight and came out a winner in God's eyes and men. I do have a story to tell, that story's determined by you all on how you witness me. Ask yourself: 'What did I leave with you?' That will determine my legacy. I leave now in peace and love. I pray that you will all know how I valued and treasured you. Treasure your love and friendship. As you all leave here today, who will you witness too, today?

Love Andrew Chan.