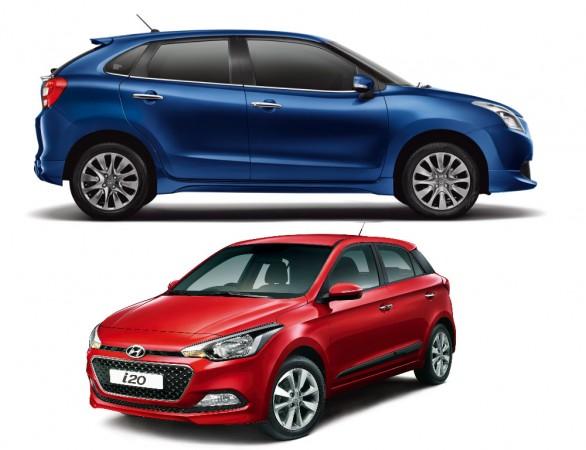 The competition between India's largest car-maker Maruti Suzuki and its nearest competitor Hyundai in the premium hatchback segment has got intensified with the Baleno overtaking sales of the Elite i20 in July. Sales of Hyundai's Elite i20 had surpassed that of the Baleno in June after trailing behind in April and May. But the Hyundai hatchback failed to retain increased sales the last month.
Maruti Suzuki sold 9,120 units of the Baleno in July against the Hyundai Elite i20 that found 8,205 takers. Hyundai Elite i20 also experienced drop in sales by 18 percent over the same period last year. In June, Maruti Suzuki sold only only 6,967 units of the Baleno, while Hyundai sold 7,250 units of the Elite i20. Maruti Suzuki's drop in sales in June was due to the production shut for week-long maintenance in the beginning of the month.
In May and April, the Baleno was on driving seat with 10,004 units and 9,562 units sales, respectively, while Hyundai sold only 8,600 and 9,400 units of the Elite i20. After a promising start that saw the Baleno overtaking the Elite i20 sales for the first time in December 2015, the months of January, February and March 2016 were not in favour of Maruti Suzuki as its premium hatchback lagged behind the Elite i20.
With full scale production resumption at Maruti Suzuki plants, the Baleno will most likely retain its upper hand in sales in the coming month. Maruti Suzuki product still has over 50,000 bookings and waiting period of a minimum of six months. Maruti Suzuki also increased the production of the Baleno recently which will further boost sales of the premium hatchback.