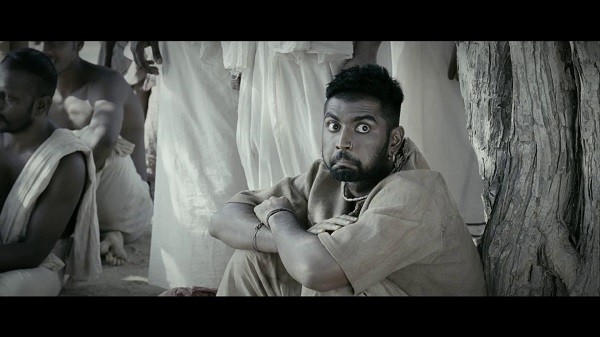 Director Bala's much-awaited film "Paradesi", which was released on 15 March (Friday), has received positive response from film critics.
Known for his different style of filmmaking, Bala has churned out good scripts and ensured his actors deliver realistic performances during 13 years of his career.
Be it "Sethu", "Pithamagan" or "Naan Kadavul," the national award-winning director wooed us with his intense and hard-hitting films. Bala's movies have not only received appreciations and awards, but also has set the cash registers ringing.
The director has once again proved his mettle with his recently released movie, "Paradesi" starring Adharvaa, Vedika and Dhansika. The film trailer, which was released last year, generated more hype among movie-goers.
It seems Bala has not let his fans down with the movie (released on Friday) receiving positive feedback from film critics who termed it as Bala's career best.
"Paradesi" is based on real-life incidents that happened in pre-independent era. The film deals with the enslaved tea plantation workers living in Munnar in late 1930s. It is said to be an adaptation from "Eriyum Panikadu," a Tamil translation of the 1969 novel "Red Tea" by Paul Harris Daniel.
Take a look at what the critics have to say about the movie:
Ramesh Ganapathy of IBNLive is all praise for the movie, calling it is a master class in filmmaking.
Heaping praises on the film, Ganapathy said: "This is pure unadulterated cinema and the screenplay and the plot rank high above everything else."
Actors featuring in Bala's films have always given out their best shot. Be it Vikram or Suriya in "Pithamagan" and Vishal in "Avan Ivan," Bala's actors have won accolades for their great performances.
"Paradesi" reflects Adharvaa's spectacular performance in the role of Ottuperuki, the main protoganist. "After Vikram and Suriya, it seems that Adharvaa is next in line to receive Bala's Midas touch. He is nothing short of spectacular and is one of the standing points of the film," says Ganapathy.
He adds, "With all the drilling in place, his character is not likely to deserve a better performance. The hardships the man has gone through are seen in every scene. If you appreciate those sorts of things, you will applaud heartily for him just playing his character."
S Saraswathi of rediff.com said that the film captured the essential elements of the pre-independent era including the tea estates of South India and the living conditions of the tea workers.
"Bala's Paradesi stays with you long after you walk out of the theatre. In fact you need a few minutes to reorient yourself back to the present, Bala captivates with his authentic script, unadorned visuals and down-to-earth characters. A must-watch," Sarawathi said.
N Venkateswaran of Times of India said: "Bala works to his own sensibilities, treading a path never before taken in the Tamil film industry. All his earlier films have been about people living at the margins of society, and it is no surprise therefore that this story attracted him."
Praising actor Adharvaa, the writer said: "Atharvaa finally gets a role that challenges his potential, and he comes up trumps. It is amazing how he has transformed himself after playing city-centric roles in his earlier two films. His performance is sure to put him in contention for the national award for best actor, as the movie will for Bala as best director."
The writer also applauded the performances of the leading ladies - Vedika and Dhansikaa - saying: "After doing roles that only required her to look pretty, Vedika gets a chance to show off her acting skills. Dhansikaa is as good as ever, though her portrayal does remind one of her earlier work in Poraali."
He also heaped praises on cameraman Chezhiyan for his terrific work showing the carefree lives of the workers.
Check out the film's trailer below: