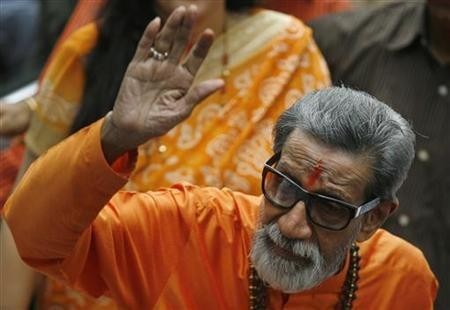 Shiv Sena party chief Bal Thackeray's health is still in critical stage though he is stable and responding to treatment, said Shiv Sena mouthpiece 'Saamna'.
The 86-year-old Shiv Sena supremo was taken critically ill on Wednesday evening, forcing doctors to put him on life support and sending panic waves among his party members and fans.
'Saamna' updated on the health of the Shiv Sena chief on Saturday by carrying an article on his condition.
"Our warrior is fighting. With good wishes and prayers of Shiv Sainiks across Maharashtra, Thackeray is recovering," it said. "Doctors treating Thackeray have also assured that the chief is recovering. His pulse rate, heart beat and blood pressure is normal. He has 98 per cent oxygen in his blood."
Indicating that the Shiv Sena chief's health is stable, the party spokeperson Sanjay Raut told reporters that one could make out the improved health condition of Bal Thackeray from their faces.
Meanwhile, the Shiv Sena bigwigs will meet on Saturday in Mumbai to discuss the crisis in the party following the ill health of the party chief. Uddhav Thackeray, son of Bal Thackeray, is expected to chair the meeting.
Mumbai city has returned to normalcy with crowds stationed outside Thackeray's residence 'Matoshree' beginning to dwindle after the party members assured them that the Shiv Sena chief was stable. However, security personnel are still in place.
Heavy security has been deployed at Matoshree since Wednesday to avoid any untoward incidents from fans and well-wishers who have gathered around following the news of his illness. The Maharashtra government had assigned about 48,000 policemen in Mumbai city and the Centre Government too assured all help to prevent any violent incidents should the Shiv Sena chief's health deteriorate.