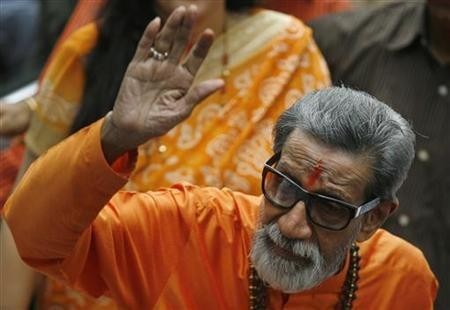 Shiv Sena party chief Bal Thackeray passed away in Mumbai at 3.30 pm on Saturday. He died of cardio-respiratory arrest at 86 and is survived by his sons Jaidev and Uddhav.
The Shiv Sena chief was taken critically ill on Wednesday evening, forcing doctors to put him on life support but party mouthpiece 'Saamna' had said in an article on Saturday that its chief's condition was critical though stable and responding to treatment.
The mortal remains of the Shiv Sena chief will be kept at Shivaji Park for darshan from 7.00 am on Sunday. The funeral procession is expected to start at 10:00 am and the cremation would take place between 3:00 and 4:00 pm.
It is reported that huge crowd has gathered at Matoshree on hearing the news of their leader's death.
About 20,000 security personnel have been deployed in Mumbai to ensure peace in the city. Heavy security has been in place at the Shiv Sena chief's residence since Wednesday to avoid any untoward incidents from fans and well-wishers.
Meanwhile, Shiv Sena spokesperson Sanjay Raut has requested the fans of the party chief to maintain peace and calm.
Born on January 23, 1926, Balasaheb Keshav Thackeray started his career as a cartoonist with an English daily The Free Press Journal in Mumbai and went on to start his own weekly Marmik in which he campaigned against the influence of people from other states in Maharashtra.
In 1966, he formed the Shiv Sena party to fight for the rights of the Maharashtrians. It later allied with the Bharatiya Janata Party (BJP) over the common Hindu nationalism ideology and even formed the government together in the state in 1995 after winning the state Assembly elections.
He announced his retirement from public life in October this year.